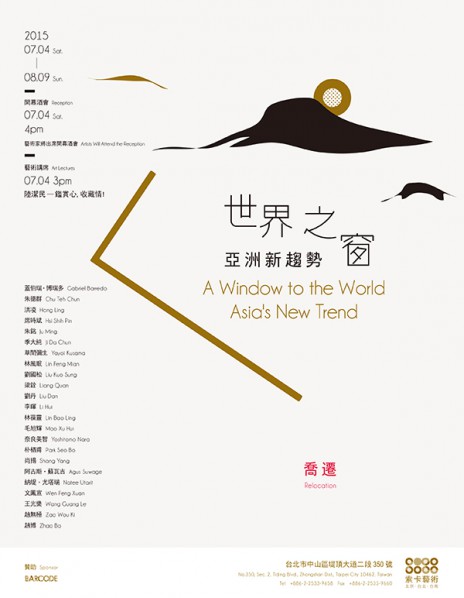 This July, Soka Art Taipei has moved to No. 350 Tiding Boulevard Section Two in Zhongshan District to host "A Window to the World – Asia's New Trend" from July 4th to 9th. This exhibition includes the works of 23 representative artists while also serving to commemorate Soka's 23rd anniversary. The art to be exhibited spans each generation of contemporary Asian art , and will display classic works from Korean, Southeast Asian, Chinese and Taiwanese artists. These works consist of installation art, sculptures, drawing, paintings, etc. The 23 artists are: Gabriel Barredo, Chu Teh Chun, Hong Ling, Hsi Shih Pin, Ju Ming, Ji Da Chun, Yayoi Kusama, Lin Feng Mian, Liu Kuo Sung, Liang Quan, Liu Dan, Li Hui, Lin Bao Ling, Mao Xu Hui, Yoshitomo Nara, Park Seo Bo, Shang Yang, Agus Suwage, Natee Utarit, Moon Bong Sun, Wang Guang Le, Zao Wou Ki, Zhao Bo.
This exhibition focuses on the concept of Asian contemporary art. Soka is the first art gallery to introduce Southeast Asian art to galleries in Taiwan, showing works from Indonesian artist Agus Suwage, Thai artist Natee Utarit and Filipino artist Gabriel Barredo. Their unique styles are ahead of their times, yet incorporated with local cultures and traditions. Soka has a close relationship with the art industry in Japan and Korea. They have hosted tours for prominent minimalist Korean artists, becoming the very first art organization in Taiwan to exhibit Korean minimalist works. This time, Soka Art Taipei presents Park Seo Bo's famous "Ecriture" series from his earlier works and contemporary Korean ink artist Moon Bong Sun's works. Representing the Japanese contemporary art are works of Yayoi Kusama and Yoshitomo Nara, who both are trend-setting and well-known artists.
Soka art has long been engaged in nurturing the development of contemporary Chinese artists such as Hong Ling, Mao Xuhui and Liang Quan who are now well-known names in the world of contemporary art. Having paved the way for painting Chinese landscapes using western oil paints, Hong Ling has been lauded as the "protegee of Zao Wou Qi." Mao, on the other hand, is famous for his chair and scissors symbols. And Liang is known for his ink art collages. This time, Soka will showcase the so-called "father of Chinese contemporary art" Lin Feng Mian's "Garden," which depicts the blending of landscape and people. In addition, the exhibition includes works of second-generation artists who, like Lin Feng Mian, also spent time traveling through France. Among these artists are Zao Wou Ki and Chu Teh Chun, whose works are instant classics. As for Ji Da Chun, Liu Dan, Wang Guang Le, Li Hui, Shang Yang and Zhao Bo, they begin their works with personal experiences from different generations and extend them to social phenomenons and consideration for humanity. Through these works, each artist manages to present their own individualistic style.
Soka has employed the masterpieces of Liu Kuo Sung, father of Taiwanese traditional ink art and master sculptor Ju Ming as the leading exhibits for the exhibition. Soka was founded in Taiwan and actively promotes Taiwanese contemporary art. They have cultivated and worked with young Taiwanese artists such as Hsi Shih Pin and Lin Bao Ling for many years. In this manner, Soka has been able to play a part in the promotion and growth of the world of contemporary art.
About the exhibition
Duration: July 04—August 09, 2015
Venue: Soka Art Taipei
Contact: Claire Hsu
Email: pr@soka-art.com.tw
Courtesy of the artists and Soka Art Taipei, for further information please visit www.soka-art.com.
Related posts: