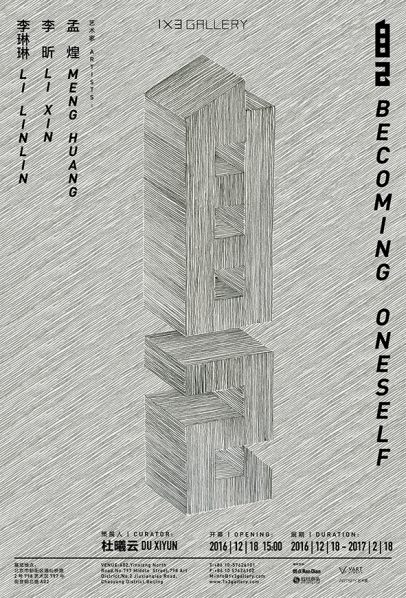 The desire of becoming "oneself" is a reflection of an individual will, it reveals a latent aspiration for life; as part of a continuous, chaotic and unpredictable process. What does "oneself" mean? How do we become "oneself"? The answer will unfold slowly as we move ahead, make choices, make mistakes, correct them and continue on the journey. This is a path paved by the individual will, as one experiences gains and loses the meaning of becoming "oneself" will slowly be revealed.
Art is what life exudes; art is also a way for the artist to find "oneself", it is the place where the artists finds a testimony of this quest. During the creative process, artists choose specific shapes and forms of expression according to their own particular living environment, their own individual will and their artistic medium.
Meng Huang, Li Xin and Li Linlin are three artists born in 1966, 1973 and 1992 respectively. Meng Huang has settled down in Berlin, Li Xin drifts between Beijing and Paris and Li Linlin has a cosmopolitan lifestyle that transcends borders. Judging their work within the context of a rapidly changing China, and the generational gap that separates them, their work seems to be quite different from each other. Their choice of artistic mediums, and the themes at the center of their art is all quite different. Of course, the three artists were all brought up in China; they share a common background as well an enduring connection to a language environment. They are trying to find their own original "self" or identity within this complex context.
About the exhibition
Dates: 2016.12.18 Sun – 2017.02.18 Sat
Opening: 18/12/2016
Venue: 1×3 Gallery
Courtesy of the artist and 1×3 Gallery.
Related posts: