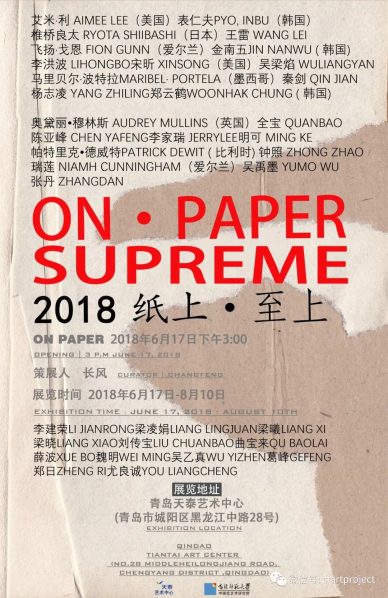 After a year of planning and preparation, the 2018 "On Paper · Supreme" exhibition has come to fruition. The first rendition of the exhibition will be opened in Qingdao Tiantai Art Center. Previously in 2017, the exhibition was presented in six cities in China including Shanghai, Beijing, Tsingtao and Guangzhou.
Why is the art of paper attracting increasing attention of people from all walks of life? Some of the essential qualities of the art of paper include its immediacy and simplicity, it can be both relaxed and sensual making it more accessible for people to enjoy.
As the result of extensive studio visits, curator meetings, the use of online platforms recommendations by art professionals, this year's "On Paper · Supreme" has attracted eleven renowned international paper artists from the United States, Britain, Mexico, Japan and South Korea and other European countries. By building a platform of international exchange and dialogue for paper art we can further expand international relations. The various multi-dimensional spaces of paper and the atmosphere of unexpected images created by the artists await to be discovered by visitors.
"On Paper · Supreme" differs from previous exhibitions as it focuses on "photographic drawing on paper". Along with the popularization of digital camera and in particular smart phone camera technology, people can engage with photography conveniently, however not everyone is able to express his/her unique artistic interpretation. This year's participating artists employ various photographic and postproduction techniques to visualize their concepts. Some process their images with smartphone applications while others use Photoshop and digitalprint on paper for fabrication. The figure and background setting can be configured at will by using a combination of filtering, merging, collage andre-creation. As a creative blueprint, technology allows for the discovery of a new category in paper art.
Only with constant expansion and exploration, will "On Paper · Supreme" attain its value and significant contribution. It is for this reason we continue the search for innovative artists who are confident in challenging existing forms and authority, while constantly sourcing new ways of expression to determine their own value and individuality.
About the exhibition
Curator: Chang Feng
Exhibition time: June 17, 2018 – August 10th
Exhibition Location: Qindao Tiantai Art Center
Address: No. 28 Middle Heilongjiang Road Chengyang District, Qingdao
Artists:
SUBSTITUTION OF PAPER: Aimee Lee, Pyo, Inbu, Ryota Shiibashi, Fion Gunn, Jin Nanwu, Li Hongbo, Maribel· Portela, Qin Jian, Xin Song, Wang Lei, Wu Liangyan, Yang Zhiling, Woonhak Chung
ON PAPER: Audrey Mullins, Chen Yafeng, Jerry Lee, Ming Ke, Patrick Dewit, Quan Bao, Niamh Cunningham, Yumo Wu, Zhang Dan, Zhong Zhao
Qingdao local artists: Li Jianrong, Liang Lingjuan, Liang Xi, Liang Xiao, Liu Chuanbao, Qu Baolai, Xue Bo, Wei Ming, Wu Yizhen, You Liangcheng, Zheng Ri, Ge Feng
Related posts: