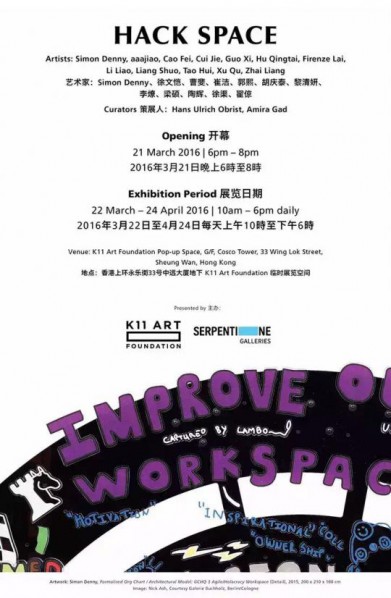 The K11 Art Foundation (KAF) and Serpentine Galleries are pleased to present the group exhibition HACK SPACE with New Zealand artist Simon Denny together with 11 China-based artists including aaajiao, Cao Fei, Cui Jie, Guo Xi, Hu Qingtai, Firenze Lai, Li Liao, Liang Shuo, Tao Hui, Xu Qu and Zhai Liang.
HACK SPACE is a new iteration and expansion of Denny's exhibition Products for Organising previously held at the Serpentine Galleries. The exhibition takes at its core the theme of hacking space – the idea that place, territory and infrastructure can be radically adapted in unorthodox ways to solve problems. Through an unconventional organisational, social and spatial arrangement, the hacker-like "Shan Zhai" principle is an underlying link between the exhibited works in HACK SPACE. Drawing themes from the original, which compared hacking culture and innovation in different contexts, the exhibition brings together practices that question, cheat, flip, redefine and short-cut notions of space, buildings and creative practices.
About the exhibition
Date: March 21 – April 24, 2016
Opening: March 21, 2016, 18:00, Monday
Venue: K11 Art Foundation Pop-up Space
Address: G/F, Cosco Tower, 33 Wing Lok Street, Sheung Wan, Hong Kong
Courtesy of the artist and K11 Art Foundation, for further information please visit www.k11artfoundation.org.
Related posts: