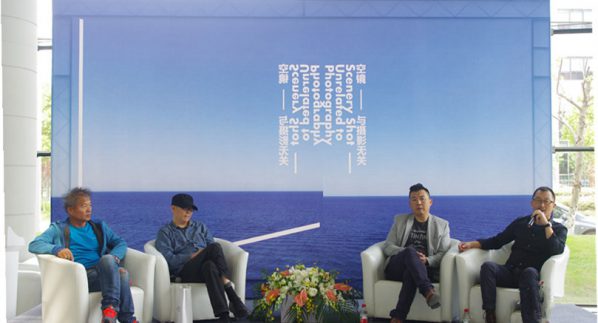 The opening ceremony and seminar of "Scenery Shot – Unrelated to Photography" were held at the New Gallery of Art in Shanghai on April 14, 2016. Prof. Wang Chuan from the Design School of CAFA serves as the curator of this exhibition, and Prof. Yu Ding, Dean of the Institute of Arts Administration and Education at CAFA serves as its academic chair.
The exhibition showcases 23 works by nine artists including Chi Peng, Feng Mengbo, Ji Zhou, Kang Jianfei, Lu Liang, Qu Yan, Shi Yu, Wang Yansong and Yan Feng. It will remain on view till June 14, 2016. Being the organizer of the exhibition, New Gallery of Art aims to promote modern and contemporary artists and their works, so as to forge a professional art museum which integrate exhibitions, researches, education and collection with the academic support.
Prof. Yu Ding, Dean of the Institute of Arts Administration and Education at CAFA, the curator Wang Chuan, Prof. Klaus Siebenhaar from Freie Universität Berlin (IKM), Tang Hao, Director of Xuhui Art Museum, artists Feng Mengbo, Qu Yan, Wang Qingsong and Yan Feng attended the opening ceremony and the related seminar. Prof. Wang Chuan talked about the theme of this exhibition, "it is an exhibition closely related to photography and this relevance connects the works, artists, academic opinions and the exhibition scene."
Renaissant painters had already handed the problems of modeling and work efficiency over to the lens, however the process of molding and portraying still relied on painting techniques. All this effort was for the purpose of obtaining images more rapidly and efficiently in order to meet our growing viewing needs that have never been satisfied. Images produced from lens and the subsequent camera lens marked the beginning of a system, once these images are saved. What this system would bring to us is unexpected and emerges in an endless stream; two new things come into being among them in our lives, namely the act of photographing and the photographs as a result of that act. The former has directly turned into our human's daily routine since the 19th-century, including artistic production as well; however the latter has instantaneously become another kind of medium and reality in terms of human's visual sense, expressions and languages.
The distinction between styles originates from the most rudimentary working principles and fundamental traits. Nowadays almost all the phenomena and issues concerning photography and image could trace their causes back to the two aforementioned origins. Any presentation or viewpoint could function as the starting point and motivation for an act of recalling. No matter how the concept of "erosion of art by photography" was cursed in the first place or how pessimistic the idea "squeezing literature to replace painting" is, or the various transformations and variations happening on it nowadays, if we explore them from the essence of photography, we will find that these notions are inherently and profoundly inevitable. What's interesting is that all these things failed to materialize. Instead, recently what has been discussing heatedly is the topic of "Photography has been dead." I think it quite reasonable to regard the aforementioned wording with indifference referring to the association between painting & literature and photography alone, let alone the proofs provided by photography itself, which can be found everywhere. Having clarified this, we could confront its current situation with relief, especially when photography is not its "original self" any more. On this issue, artists' personal efforts undoubtedly contain more persuasiveness. They demonstrate their thinking with their respective experience from different angles. Moreover they ponder over more questions concerning photography, such as what role could photography play apart from those well-acquainted patterns, and how photography would make any difference in the future.
In my view, this exhibition is inseparable from photography, which combines artworks, artists, academic viewpoints and scenes. However in this exhibition we haven't designed too many opportunities for the viewers to experience the existence of 'lens', in other words, the form of photography symbolized by lens that most of us are familiar with. Nevertheless, apart from the traditional form of photography, the impact of photography, the extension of image and the responses of other art forms are distinct and intense.
When photography is no longer what it should be, what we will see is a newborn rather than its finality.
Wang Chuan
2016.3.13 Wangjing
About the exhibition
Academic Advisor: Yu Ding
Curator: Wang Chuan
Organizer: New Gallery of Art
Academic Sponsor: Institute of Art Management & Education, China Central Academy of Fine Arts
Artists: Chi Peng, Feng Mengbo, Ji Zhou, Kang Jianfei, Lu Liang, Qu Yan, Shi Yu, Wang Qingsong, Yan Feng
Address: 207, Building 7, No. 1528 Gu Mei Rd., Xuhui District, Shanghai
Exhibition Period: 2016.04.14–2016.06.14
Courtesy of the artists and New Gallery of Art, edited by Sue/CAFA ART INFO, for further information please visit www.newgalleryofart.org.
Related posts: