On March 22, President Joachim Gauck of Germany announced the launch of large-scale exhibitions themed "GERMANY 8–German Art in Beijing" at Vertretungen der Bundesrepublik Deutschland in der Volksrepublik China, which belonged to a series of important potentially cooperative sessions that he announced during his visit in China, and it was also one of the significant projects for future art communications between China and Germany. On that day, Prof. Fan Di'an who serves a the President of CAFA signed the letter of intent with Prof. Walter Smerling, Vorsitzender der Stiftung für Kunst und Kultur e.V. Bonn und Direktor des MKM Museum Küppersmühle für Moderne Kunst in Duisburg. They also conducted discussions around academic planning programs and preparatory works.
President Joachim Gauck spoke highly of "CHINA 8" exhibition held in Germany last year in his speech and he would like to provide an active support for the upcoming "GERMANY 8–German Art in Beijing". He mentioned that, "GERMANY 8" will carry on the exhibiting mode of "CHINA 8" as it continues to invite Prof. Fan Di'an and Prof. Walter Smerling to act as chief curators, a team of professionals from China and Germany will jointly organize a large group of exhibitions concerning contemporary art in German. The exhibition will be a rich and multiple form of project, on the one hand it will present the special experience of German culture and art for the Chinese audience, on the other hand it will promote the mutual understanding between the two countries from a level of cultural and art exchanges, continuously enhancing the mutual understanding and trust in dialogues and cooperation to achieve win-win cooperation.
In May of 2015, "CHINA 8 – Contemporary Art from China on the Rhine and Ruhr" succeeded in bringing eight cities along the Rhine and Ruhr, nine museums and around 120 artists – in the most comprehensive museum-based survey of contemporary Chinese art worldwide to the audience. For the first time since RUHR.2010, nine museums in eight cities were collaborating to mount an international exhibition project and foster a cultural dialogue between Asia and Europe, China and Germany. There were over 500 pieces (series) of work by 128 Chinese artists presented and it's heralded by the organisers as "the largest institutional exhibition of contemporary art from China ever to be assembled anywhere in the world."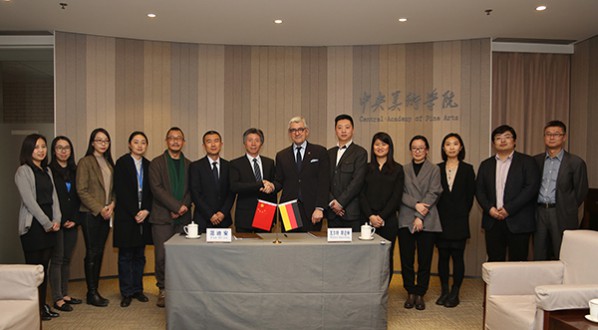 It is reported that "GERMANY 8–German Art in Beijing" will be jointly organized by Stiftung für Kunst und Kultur e.V and the Central Academy of Fine Arts, in coordination with a number of high-level galleries. It is planned that "GERMANY 8–German Art in Beijing" will be simultaneously held in 8 prestigious galleries and art spaces in September, 2017. With various forms of paintings, sculptures, installations, photography and new media, the exhibitions feature works by dozens of German art masters in the twentieth century such as Georg Baselitz, Anselm Kiefer, Sigmar Polke, Gerhard Richter, Markus Lüpertz as well as the representative contemporary artists, academic artists from art schools, to showcase the outstanding history and latest trends of German contemporary art, comprehensively presenting the rich diversity and unique charm of German contemporary art, to further deepen the public's understanding of German culture.
Text by Feng Xue, and Photo by Song Manqing/CAFA
Translated and Edited by Sue/CAFA ART INFO
Related posts: