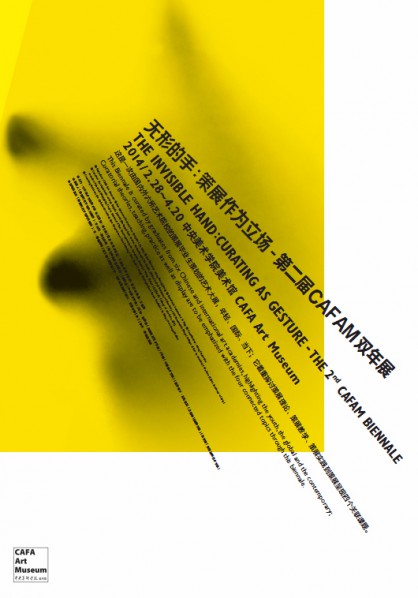 CAFAM Biennale is an exhibition organized by CAFA Art Museum every two years, presented on the platform of an academy's art museum. Started with the first exhibition "Super Organism: A Particular Research View and Experiment," it was successfully opened from September through to November in 2011. The exhibition was positively commented by all social ranks and awarded as "2011' Best Exhibition" by several institutions and medium.
The Second CAFAM Biennale, entitled The Invisible Hand: Curating as Gesture, will stick to the international, contemporary and pioneering academic orientations, and explore the spirit, feature and characteristics of contemporary culture, cultural development and experiment. It will adopt innovative curating method, aim at establishing and developing a curating department in art academy, as well as play a unique and important role in contemporary curating practices. In addition, this Biennale invites professional curating teachers from internationally significant art academies as academic supervisors and curating graduates with outstanding achievements as curators, to form a curators' team which will fulfill the tasks of innovation, teaching and experiment. These recommended curators will be featured with their own academic interests, to enable the curatorial practice not only associate with art education, but also concern the ecology of contemporary art.
Since this is a trans-regional and trans-cultural biennale featuring horizontal curating practice, they would particularly emphasize the sur-experiential nature of the issue and topic presented by the curators. As the curators, they would also emphasize its sur-curating nature as an art research, i.e. by vertically contemplating history and horizontally establishing dialogues with different disciplines, highlights the concerns and particularity of contemporary international society. In addition, because this is an internationally cooperative biennale, the translations of concept, artwork and language remain one of their main concerns. Hence, with the sur-experiential, sur-curating and sur-translating method and objective, they, through pursuing after the value of a new biennale, are expecting to highlight and promote the trend of contemporary curating to construction of comprehensive knowledge and organic integration with art ecology, by way of academic education and social practice.
The Second CAFAM Biennale Highlights:
Young Curators, professional, global, and experimental;
Six influential internationalArtAcademieson curating;
New research directions on curating and practice.
Six Parts from six universities
HU Danjie(China Central Academy of Fine Arts)
The Code of The Golden Bough — Economics of Witchcraft, Soul, and Faces
Ma Nan(China Academy of Art)
The Museum Cellars
Angela Jeradi(De Appel Arts Centre, Netherland)
Game Theory: which animals are most like each other?
Kit Harmmonds(Royal College of Art in London)
Phantom Limbs, or No Puppet is Dumber than its Puppeteer
Veronica Valentini(MAGASIN, Centre National d'Art Contemporain de Grenoble, France)
ON AMBIGUITY AND OTHER FORMS TO PLAY WITH
Xiaoyu WENG(California College of the Arts)
The Parliament of Things: an Exhibition that Loses Itself
About the exhibition
Exhibition Venue: CAFA Art Museum
Exhibition Date: 2014/2/28—4/20
Art Director-General: Pan Gongkai, Xu Bing
Art Director: Wang Huangsheng
Academic Supporter: Yi Ying
Coordinator: Wang Chunchen
Curators (in alphabetic order): Kit Hammonds, HU Danjie, Angela Jerardi, Ma NAN, Veronica Valentini, Xiaoyu WENG
Curatorial Adviser (in alphabetic order): Yves Aupetitallot, Ann Demeester, GAO Shiming, HOU Hanru, Leigh Markopoulos, Victoria Walsh , YU Ding
Organizer: CAFA Art Museum
Participating Academies:
China Central Academy of Fine Art
China Academy of Art
California College of the Arts
De Appel Arts Centre, Netherland
MAGASIN, Centre National d'Art Contemporain de Grenoble, France
Royal College of Art in London
Courtesy of the CAFA Art Museum, for further information please visit www.cafamuseum.org.
Related posts: