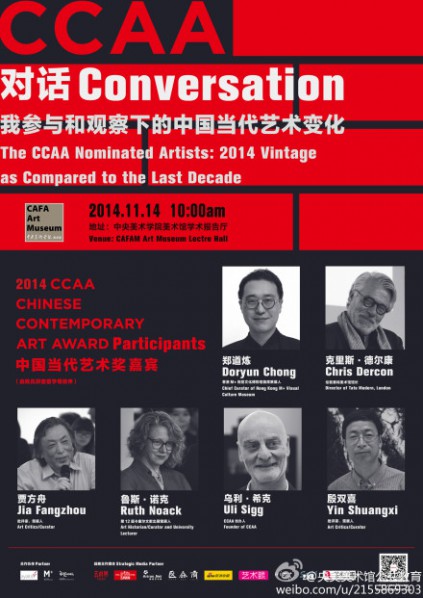 Along with the end of the large-scale retrospective "15 Years Chinese Contemporary Art Award CCAA 1998-2013" which was held at the Power Station of Art, Shanghai this summer, CCAA Chinese Contemporary Art Award 2014 is about to select the winners of the 9th CCAA Chinese Contemporary Art Award for Artists. The jury this year is composed of 7 judges from home and abroad: (alphabetically by family name) Doryun Chong (Chief Curator at M+ Hong Kong), Chris Dercon (Director of London's Tate Modern), Gong Yan (Curator of Power Station of Art, Shanghai), Jia Fangzhou (critic, curator),Ruth Noack (Curator of documenta 12), Uli Sigg (founder of CCAA, a collector, former Swiss Ambassador to China), Yin Shuangxi (critic, curator) and Director Liu Lili. The selection will be held at the CCAA cube in Beijing from November 12 to November 13, 2014, and a press conference will be held to announce the results at the Auditorium of CAFAM on the afternoon of November 14. During the press conference there will simultaneously be a Sino-Foreign forum entitled "Chinese Contemporary Art Vintage through My Participation and Observation", which will invite Chinese and foreign judges of CCAA of the year to participate in it and based on the experiences and changes in their participating in and research of CCAA they unfold a discussion from their individual perspective, in order to comb through the changing relationship between the development of Chinese contemporary art and the history of Chinese contemporary art.
The Nominating Committee of the CCAA 2014 for Artists (alphabetically by family name): Nikita Choi, a young curator of Guangdong Times Museum, Gao Shiming, president of SIMA, China Academy of Art, mentor of Ph.D, Li Feng, Deputy Director of Minsheng Art Museum, Karen Smith, Executive Director of OCAT • Xi'an, winner of CCAA Chinese Contemporary Art Award for Critics 2007 – Pauline J. Yao, a curator at M+ Hong Kong, as well as Zhu Zhu, winner of CCAA Chinese Contemporary Art Award for Critics 2011.
Different from previous years, Chinese Contemporary Art Award for Artists of the year synchronously opens a channel to encourage and explore the artists who have always insisted on independent thinking and personal practice but are unfamiliar to the public, market and academic circles. It recruits worldwide artists engaged in Chinese contemporary art. The deadline was August 31, 2014, and the organizing committee has received 66 artists' registrations from the Mainland China and Taiwan, China, and each nominee has selected an artist from the open recruiting group to join the candidates, together with nominations to constitute the final selection. Now, the organizing committee of CCAA has finished the candidate list and the related information, which was translated into English then dispatched to all the judges. During the selection period on November 12 and November 13, the judges respectively select three awards – "Best Artist", "Best Young Artist" and "Outstanding Achievement" on the basis of the candidates. CCAA will respectively reward the winners of "Best Artist", and "Best Young Artist" 10,000 USD and 3,000 USD to encourage and support the development of Chinese contemporary art.
Jury of CCAA Chinese Contemporary Art Award 2014 for Artists
Duration: November 12-November 13, 2014
Venue: CCAA cube
Press Conference of CCAA Chinese Contemporary Art Award 2014 for Artists
Duration: at 10:00 am on November 14, 2014
Venue: Auditorium of CAFAM
For further information please contact: press@ccaachina.org
About the Judges
Doryun Chong (Chief Curator at M+ Hong Kong)
Doryun Chong is Chief Curator at M+ Hong Kong. Previously Chong was Associate Curator of Painting and Sculpture at MoMA, where he organized contemporary exhibitions and acquired works for the museum's collection. At MoMA, he organized Bruce Nauman: Days (2010) and Projects 94: Henrik Olesen (2011), and Tokyo 1955-1970: A New Avant-Garde (2012), and co-edited From Postwar to Postmodern, Art in Japan, 1945-1989: Primary Documents. Prior to his appointment at MoMA in 2009, Chong held various positions as a curator in the Visual Arts department at the Walker Art Center in Minneapolis from 2003 to 2009, and co-organized exhibitions including Haegue Yang: Integrity of the Insider (2009-10); Tetsumi Kudo: Garden of Metamorphosis (2008); Brave New Worlds (2007); and House of Oracles: A Huang Yong Ping Retrospective (2005). He has also curated and coordinated exhibitions at venues including REDCAT, Los Angeles, the 2006 Busan Biennale, and the Korean Pavilion at the 2001 Venice Biennale, and his writings have appeared in journals such as Artforum, Afterall, The Exhibitionist, and Parkett, and museum and biennale publications by the Auckland Triennial, the Gwangju Biennale, and Kunsthaus Bregenz. Chong is the recipient of the first ICI Gerrit Lansing Independent Vision Award in 2010.
Chris Dercon(Director of London's Tate Modern)
Chris Dercon is a curator who was born in Lier, Belgium, in 1958. After studying the history of art, theatre theory, and film theory in the Netherlands, he worked from 1981 to 1983 for the gallery Baronian-Lambert in Ghent. Disappointed with the cynicism of the commercial art world, Dercon turned to work as a freelance documentary maker for Belgian Radio and Television. At the same time, Dercon began working as a freelance curator presenting alternative exhibition models and curating time-based arts, such as presentations of work by Jack Goldstein and Dara Birnbaum and Dan Graham in Belgium, the "DOCH DOCH" show in Leuven (1985), and Theater garden Bestiarium (New York, 1987–1989). In 1988 Dercon became program director of P.S.1 Museum in New York. In 1990, he became founding director of Witte de With in Rotterdam. In 1995 he presented Marlene Dumas in the Dutch Pavilion at the Venice Biennale; he was responsible in 1996 for the 1980–1996 section of "Face à l'histoire" at the Centre Pompidou. That same year Dercon became Director of the Museum Boijmans Van Beuningen in Rotterdam. In 2003 Dercon moved to Munich to direct the Haus der Kunst. His interest in Asian arts, film, and design led him to realize interdisciplinary projects for the Haus der Kunst with Yayoi Kusama, Garin Nugroho, Amar Kanwar, Apichatpong Weerasethakul and forthcoming, Rei Kawakubo and Yohji Yamamoto.
Gong Yan (Curator of the Power Station of Art, Shanghai)
An artist, curator, Gong Yan is the Curator of the Power Station of Art, Shanghai who was formerly the editor in chief of the Chinese-language magazine Art World. She has edited and translated books, such as "Defense for Homeland", "Body • Media", and "Power – Thonik Design", etc.
Jia Fangzhou (curator and critic)
He was born in Huguan County, Shanxi Province in May, 1940. In 1950, along with his father, he moved to Baotou, where he finished his study in primary and secondary education, in 1959 he was admitted to the Department of Arts, Inner Mongolia Normal College, majored in Fine Arts. In 1980 he joined the China Artists Association. In 1984 he was transferred to Inner Mongolia Artists Association, in 1988 he was selected as the Vice Chairman of Artists Association, in 1996 he was named the First-Level Artist of the country. Since 1995, he has been active in Beijing as a critic and curator.
Ruth Noack
Ruth Noack, born in Heidelberg, in 1964, is a curator and writer. She currently lives in Vienna with her children.
Noack studied feminist theory, audiovisual media and art in the United States and England. In 1999 she gained her degree in art history from the University of Vienna with a dissertation on a feminist topic (subjectification processes in the visual arts, exemplified by the early work of Lynn Hershman). By this time she had already started working as a translator, art critic and exhibition organizer. In all of her activities Noack has adopted an interdisciplinary approach that also incorporates film theory. In 2000 she took up her first university teaching appointment. From 2002 to 2003 she was president of the Austrian section of the AICA (International Association of Art Critics), and in 2006 and 2008 she was a member of the jury for the CCAA (Chinese Contemporary Art Award).
In the exhibition "Szenen einer Theorie" (Scenes of a Theory, 1995), Noack examined art and film as agents of theory development. In 2000, responding to right-wing populism in Austria, she focused on the political role of aesthetic autonomy in the exhibition "Dinge, die wir nicht verstehen" (Things we don't understand). A series of exhibitions under the heading of "Die Regierung/The Government" later he dealt with issues of government. (All of the above-mentioned exhibitions were conceived and realized in collaboration with Roger M. Buergel.)
From 2005 onwards Ruth Noack held the post of curator of documenta 12, which took place in 2007 in Kassel. In addition to its primary aim of creating an emancipated public, the exhibition focused on the work of female artists (featuring Charlotte Posenenske, Martha Rosler and Mary Kelly, among others) and explored contemporary forms of the global exhibition.
Noack's numerous publications and lectures include monographs on the work of Eva Hesse, Alejandra Riera, Danica Dakic, Ines Doujak and Mary Kelly. In recent years she has become increasingly interested in issues related to globalization and exhibition-making, and is currently engaged in a research project on the concept of the trans-local museum.
Uli Sigg (founder of CCAA, collector, former Swiss Ambassador to China)
Uli Sigg (born April 29, 1946 in Lucerne) is a Swiss business journalist, entrepreneur, art collector, patron, lord of the manor and rower – when he was 22 years old he was Swiss champion in the eight-oars – and former Swiss ambassador to China (1995- 1998) for the People's Republic of China, North Korea and Mongolia.
Uli Sigg studied law at the University of Zurich from 1968 to 1972. He has spent much of his life in China. Sigg was founding president of the first joint venture of a western industrial group with a Chinese state-owned enterprise. Sigg worked for the Schindler Group from 1977 until the end of 1990.
Sigg has been a member of various boards, including in the company Ringier, Sigg worked for a media company as a business journalist in the 1970s. He is also a member of the Advisory Board of the China Development Bank. During the construction of the Beijing National Stadium Sigg was the consultant of the architectural firm Herzog & deMeuron Architects. Sigg is also a member of the International Council of the Museum of Modern Art (MoMA) in New York and the International Advisory Council of the Tate Gallery in London.
In 1997 Uli Sigg founded the Chinese Contemporary Art Awards (CCAA).In 2012, Uli Sigg gave most of his collection of contemporary Chinese art, a total of 1,463 works to the M +, the Museum of Visual Culture in Hong Kong.
Yin Shuangxi (critic, curator)
Born in Taizhou, Jiangsu Province, Yin Shuangxi graduated from the Xi'an Academy of Fine Arts, with a master's degree in 1991, and graduated from the Department of History and Theory, CAFA, with a doctoral degree in 2002. Now he is a professor and a doctoral mentor of CAFA, President and Executive Editor in Chief of "Art Study", a researcher of the National Research Center of Modern& Contemporary Art, etc.
Courtesy of CCAA, translated by Chen Peihua and edited by Sue/CAFA ART INFO.
Related posts: