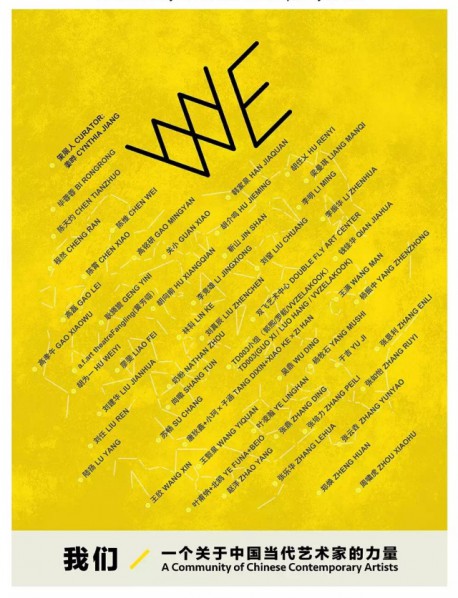 The K11 Art Foundation (KAF) presents the inaugural exhibition WE: A Community of Chinese Contemporary Artists at the chi K11 art museum, Shanghai. Featuring over 50 artworks spanning across a wide range of medium such as painting, sculpture, installation, performance art and theatre performance, the exhibition aims to express the diverse individualistic thoughts and spirits of the many Chinese artists working today.
Coined as "WE" by KAF, the 56 participating artists are some of the most iconic figures in Chinese contemporary art who together represent the most vivid power of this field. In a group exhibition format, WE completely presents KAF has constantly enriches the Chinese contemporary art community and its resources in recent years. Besides weekend lectures, during the exhibition period KAF also hosts a series of open-to-public interactive performances on every Sunday afternoons at the chi K11 art museum.
The exhibition consisted of four units:
Perception/Experience: Wassily Kandinsky once said: "Feeling as an inherent element of art must exist." The artist expresses his immediate perception through his artworks.
Substance/Language: Any material has dual form of matter: consisting of materiality and language. The artist uses materials as his creative basis and embeds them symbolically as an expression of his unique creation.
Phenomenon/Event: The concept of phenomenology proposed by Georg Hegel in his work Phenomenology of Spirit forms the basis that explains how artists move forward, reflect, and create based on the various phenomena and events in the contemporary environment.
Theatre/Performance: The concept of "dramatising" art can be traced back to the mid-20th Century, when avant-garde theater critics looked at theatres through the lens of visual art. As contemporary art develops over time, the artistic theatre becomes ever more experimental and creative in nature. An aestheticised theatrical performance may well be a performance art piece in a social context. On each Sunday afternoon during the exhibition, a performance will be scheduled to invite audience to participate in their own forms of artistic creation.
The artists participating in this exhibition include:
"Perception/Experience" Section:
Geng Yini, Hu Xiangqian, Lin Ke, Liu Zhenchen, Li Zhenhua, Lu Yang, Nathan Zhou, Wang Man, Zhao Yang, Zhang Lehua, Zhou Xiaohu, Chen Xiao
"Material/Language" Section:
Bi Rongrong, Chen Wei, Gao Lei, Gao Xiaowu, Han Jiaquan, Hu Jieming, Hu Renyi, Hu Weiyi, Liu Jianhua, Liu Ren, Jin Shan, Liang Manqi, Su Chang, Qian Jiahua, Wu Ding, Yang Mushi, Ye Linhan, Gao Mingyan, Yu Ji, Zhang Enli, Zhang Peili, Zhang Ruyi, Zhang Yunyao
"Phenomenon/Event" Section:
Chen Tianzhou, Guan Xiao, Liao Fei, Li Jingxiong, Li Ming, Liu Chuang, Shang Tun. Yang Zhenzhong, Zhang Ding, Zheng Huan
"Theatre/Performance" Section:
Cheng Ran, Gao Mingyan, a.f.art theatreFangling (Huang Fangling), Hu Renyi, Double Fly Art Center, TD003 (Guo Xi, Luo Hang, VvzelaKOOK), Tang Dixin + Xiao Ke × Zihan, Wang Yiquan, Ye Funa + Beio, Wang Xin
Courtesy of the artists and the K11 Art Foundation, for further information please visit www.k11artfoundation.org.
Related posts: