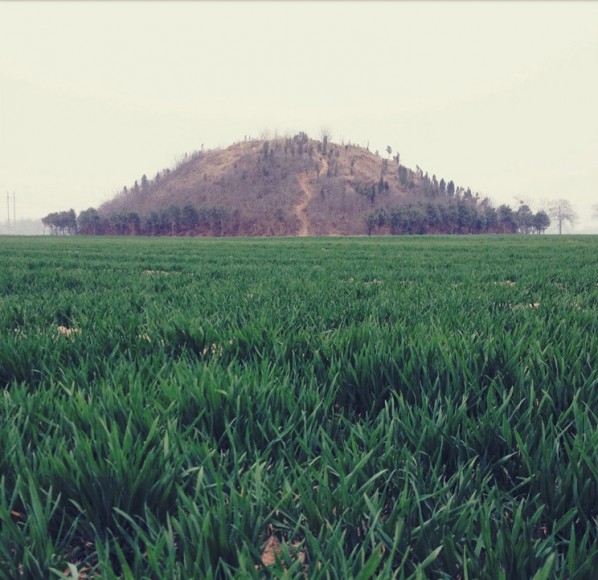 KAN XUAN: MILLET MOUNDS is at once a meditation on China's imperial past and a broad survey of its present, in the form of 173 stop-action videos, each of which unfolds before one of China's known extant imperial tombs. The largest and most significant project by leading female artist Kan Xuan (b. 1972) to date, MILLET MOUNDS is the result of over 100 days and 28,000 kilometers of continuous, on-the-road research and shooting with a crew of four in early 2012. Kan Xuan's lens claims, catalogues, and personalizes a centuries-long lineage of history and power. Through the process of searching out and recording these ancient sites, some of which are major tourist sites while others linger in disrepair, Kan Xuan engages with contemporary rural China in all its twenty-first century complexity, as a persistent past incorporates itself into the quotidian realities of the present. The exhibition takes its title from the name used by villagers in Northern China to refer to tomb mounds that resemble piles of their staple crop at harvest time.
Kan Xuan (b. 1972, Xuancheng, Anhui Province) is a visual artist whose work primarily takes the form of video, as well as photography and installation. She graduated from the China Academy of Art in Hangzhou in 1997 and completed a residency at the Rijksakademie van Beeldende Kunsten in Amsterdam. She was a recipient of Holland's Prix de Rome in 2005. She divides her time between Beijing and Amsterdam.
Her solo exhibitions include "Light" at Arrow Factory (Beijing, 2009);"Kanxuan! Ai!" at Galleria Continua (San Gimignano, Italy, 2008); and "Protected by Colors" at BizArt (Shanghai, 2008). She has shown in biennials and periodic exhibitions including the 4th Guangzhou Triennial (2012), the 8th Gwangju Biennale (2009), the 10th Istanbul Biennale (2007), the 52nd Venice Biennale (2007), the 9th Havana Biennial (2006), and the 2nd Guangzhou Triennial (2005). Other group exhibitions include "China Power Station" at venues including the Pinacoteca Gionvanni e Marella Agnelli (Turin, 2010), Astrup Fearnley Museum of Modern Art (Oslo, 2007), and Serpentine Gallery (London, 2006); and "Continuous Dialogue" at Galleria Continua (San Gimignano, Italy, 2007)
About the exhibition
Date: Sep 15, 2012 – Nov 10, 2012
Venue: UCCA Central Gallery, The Nave and Long Gallery
Address: UCCA, 798 Art District, No. 4 Jiuxianqiao Lu, Chaoyang District, Beijing, China 100015
Tel: +86 10 5780 0200
Fax: +86 10 5780 0220
Courtesy of the artist and UCCA, for further information please visit www.ucca.org.cn.
Related posts: