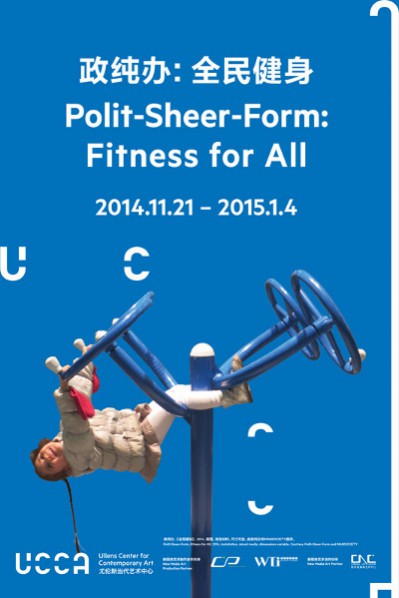 Polit-Sheer-Form transforms the UCCA Gala and Benefit Auction 2014 into a state banquet in blue as a preface to their largest exhibition in China to date.
"Polit-Sheer-Form: Fitness for All" is the largest survey by any Chinese art institution of the groundbreaking, five-member collective's decade-long career. An expansive yet concise exhibition comprised of eleven works, its focus falls on several of the group's installations and includes the premiere of the performance piece Whip It. The show occupies the Central Gallery, Nave, and Long Gallery from November 21, 2014, until January 4, 2015. The night preceding the opening, guests of the UCCA Gala and Benefit Auction 2014 bear witness to a unique on-site project designed by Polit-Sheer-Form to mirror the familiar pomp of official gatherings. The two events promise to bring blue—Polit-Sheer-Blue—back to the grey capital.
Polit-Sheer-Form was founded in 2005 by artists Hong Hao, Xiao Yu, Song Dong, Liu Jianhua, and curator/critic Leng Lin. The group's multi-disciplinary projects address the idea of "we" in a "me" world, and their activities of talking, traveling, eating, reading, and playing together form the basis of their commentary on political, cultural, and spiritual life in twenty-first century China."Polit-Sheer-Form's five members were born in the 1960s—a lost generation with memories, albeit only childhood memories, of High Socialism. As a result they have sought to reconstitute the visuality and affect of the socialist moment, distilling its political imperatives into pure (sheer) forms, devoid of content," says UCCA Director Philip Tinari who organized the exhibition together with UCCA Assistant Curator Guo Xi.
"Polit-Sheer-Form: Fitness for All" alludes to a Chinese slogan encouraging physical exercise among citizens and is the starting point for their installation Fitness for All, which appropriates the publicly funded workout equipment found in city squares and residential compounds throughout China, treating it as sculpture for the betterment of museum visitors. In their signature tongue-in-cheek style, politicized aesthetic forms from a bygone era are repurposed as in Mr. Zheng, a "leader portrait" formed by combining their individual likenesses into a single figure wearing their blue insignia.
Guests are greeted in the lobby by Flower Bed, an installation reminiscent of floral topiaries popular during China's National Holiday season. Other pieces in the show include a video installation of the performance Do the Same Good Deed in which they host a mass cleaning of city buses in Guangzhou. Manifestos from 2005, 2007, 2008, 2009 and 2014 lend context to the group's paradoxical conception. Polit-Sheer-Form Chronology: 2005-2014records the group's activities through an astounding collection of hundreds of official invoices [fapiao] documenting their endeavors and encounters, scanned and printed as wallpaper. "Polit-Sheer-Form: Fitness for All" is a mental exercise engaging viewers with a diverse body of work produced by a uniquely conceived and positioned collective.
About the exhibition
Dates: Nov 21, 2014 – Jan 4, 2015
Opening: Nov 21, 2014, Friday
Venue: Ullens Center for Contemporary Art
Courtesy of the artist and the Ullens Center for Contemporary Art, for further information please visit ucca.org.cn.
Related posts: