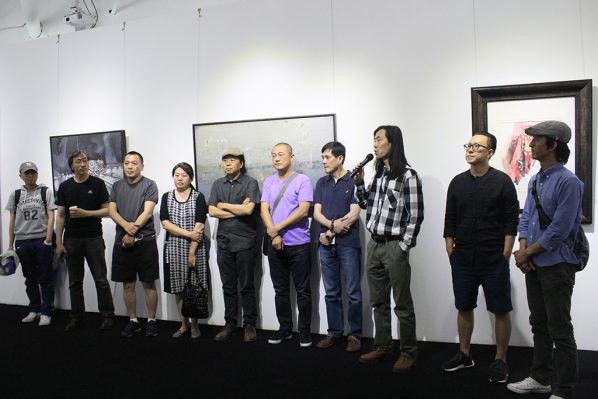 At 3:00 on May 29, 2016, "The Latitude of Academy No.2 – ContemporaryAcademy Art Research Exhibition" opened at Cheng Xi Center for Contemporary Art. The Latitude of the Academy is a series of academic exhibitions, and it currently holds the second round which has been planned by Cheng Xi, to feature the works by 29 outstanding artists from all the academies. The exhibition weakens the professional features while it strengthens the independent individual spirit within the character of the academy, all the participating artists have been exploring their own fields for many years, receiving a great deal of achievement within their disciplines and their works are representative, offering researchers some valuable information as reference. Centered on the theme of "Academy Art", the gallery will continue to study and explore the topic through a series of exhibitions, and the exhibition will last until June 24.
The history of art is part of the social history, while contemporary Chinese society rapidly changes, new ideas, new cultures, new concepts and new media continuously emerge. Advent of the global era, the impact of modern Western civilization brings Chinese artists cultural, material and psychologically multiple impact. So that, the use of art to express the relationship between the meaning of an individual life and the value system of the era, has become the artistic spirit of the times.
The artists under the academy system are important forces in contemporary art, and they include both natural elements and personal features of academy art. When contemporary academy artists are faced with the artistic achievements of many masters in art history, they do not only inherit and create, but are also inevitably influenced by the present real life conditions. The academy art is an important part of art history, and the rapid changes in all sectors of society make the artists who have grown up in different periods have different values, aesthetic tastes and artistic pursuits, they are involved in both the heritage and collision so the boundaries between the academy and non-academy are increasingly blurred. They began to go beyond the aesthetic pursuit, language paradigm and expressive technology of the work itself, focusing on another value that is hidden behind the work. In this context, a "non-academic school" academy art appears, and this changes while also enriching the academy art and also initiates the thoughts. After the innovation and heritage of several generations of modern academies, what traces are left? Faced with the strong impact of Western culture, how many latitudes of academy art are there left?
This exhibition invites professors, young teachers and postgraduates from CAFA, Academy of Arts & Design at Tsinghua University, Lu Xun Academy of Fine Arts, Tianjin Academy of Fine Arts, Sichuan Academy of Fine Arts, Xi'an Academy of Fine Arts, Renmin University of China and Shenzhen University, born from the 1960s to the 1990s (a total of 29 artists) to analyze and research in order to provoke thinking and discussion!
– An excerpt of the preface written by Cheng Xi in Wangjing on April 20, 2016
About the exhibition
Participating Artists:
1960s: Li Xiaolin, Li Fan, Liu Liping, Sui Cheng, Wang Bing, Wang Jiazeng, Xu Baozhong, Zhou Jirong, Zhang Feng
1970s: Li He, Li Xiaoyu, Song Guangzhi, Pei Ying, Tao Jiaxiang, Wu Jie
1980s: Liu Haichen, Zhu Xingguo, Zhang Hao
1980s: Luo Lina Katariina Löfman (Finland), Su Rina, Wu Jiantang, Wang Xinxue, Wang Weirong, Wang Lin, Yu Yang, Zhao Jinxiu, Zhou Hongliang, Zhang Zan, Zhang Yanan
1990s: Liu Liu, Li Jing (in alphabetical order by last name)
Opening: May 29, 2016
3:00-3:30 pm Opening Ceremony (Hall 1) 4: 00-5: 30 pm Discussion (Hall 3)
Duration: May 29 – June 24, 2016
Organizer: Cheng Xi Center for Contemporary Art
Address: Ground Floor A07 (Hall 1), Southern Zone B05 (Hall 2) LiubaibenCommercial District, Wangjing Guangshun North Street, Chaoyang District, Beijing
Courtesy of Cheng Xi Center for Contemporary Art, Photo and text by Cheng Xi Center for Contemporary Art, translated by Chen Peihua and edited by Sue/CAFA ART INFO
Related posts: