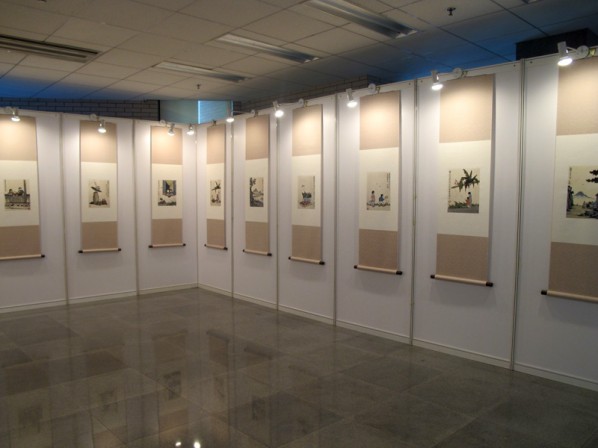 At 10:00 am, on June 22, 2013, the opening ceremony of "The Life of Feng Zikai – Promotion of Feng Zikai' Art in Universities" was held on the ground floor of the CAFA library. It was presided over by He Hao, a teacher from the Visual Communication Speciality of the School of Design, CAFA, and the honored guests included Song Feijun, grandson of Feng Zikai, cartoonist Miao Yintang, Quan Jianfang, deputy secretary of Tongxiang Cultural Affairs, Ye Yusun, President of Feng Zikai Research Association, Jin Rilong, Deputy Dean of the School of Design, CAFA, Song Yingfang, granddaughter of Feng Zikai's daughter, calligrapher Sun Guonong, connoisseur Sun Yajie, Artist Liu Chunhua, Wu Haoran from Memorial Hall of Feng Zikai, Zheng Yan, Director of Center for Communist Youth League Central Network and TV.
At 13:30, two lectures on the art and life of Feng Zikai were held in the Auditorium of CAFAM, Song Feijun and Ye Yusun respectively talked about the life of Feng Zikai from different angles.
In the first lecture, themed "My Grandfather Feng Zikai – Cosmic Art and Life", Song Feijun combined Feng's paintings and diaries, manuscripts, memories of his mother Feng Wanyin and aunt Feng Yiyin, as well as his personal experiences, he summarized and concluded Feng's life. First of all, Feng was absolutely an artist. The noted "Children Phases" indicated that he not only loved children but also understood their lives. He was a painter with a sense of justice, enraged by the social darkness, he started to carefully observe and sketch various social phases, such as pain, tragedy, and brutality. Feng advocated "Rather than be a conquered person, it is better to be homeless", the works he created during the wartime, were called "Wartime Phases". During exile, he never stopped, but created the "Poetry in Painting" and natural phases. One of the features of his art was freehand, although most of his characters were constructed by a few strokes, they're lifelike; also he viewed principles from a small thing; as well as being a civilian painter.
The second lecture was themed "Art and Life of Feng Zikai" by Ye Yusun, whose talk focused on Feng's major contributions and his art and life.
The major artistic achievements included: in the education of art and music, he was an early practitioner following Li Shutong, spreading Western art and music to China; he was the originator of modern Chinese comics; in prose and essays, he wrote modern prose, of graceful writing , although he created a small amount ; in translation, his works were popular and intelligible; in calligraphy, he created a unique style of "words of Feng style"; in art theory, he put forward that, "Because an artist is able to contemplate all things, this makes a mind rich, it is valuable." Then, Feng's diligent life was described in detail by Ye Yusun.
Li Shutong had always said, an artist prefers that his/ her works are well-known and renowned, so the works made by the artist are well-known, which was well inherited by his student Feng Zikai.
Journalist: Xu Xiaohan Translated by Chen Peihua/CAFA ART INFO
Photo: Dong Huiping/CAFAM, Yu Ya/CAFA ART INFO
Related posts: