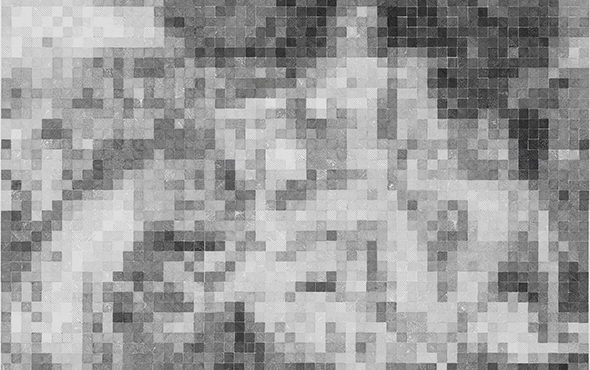 Hosted by the Zhuzhong Art Museum and academically chaired by Xu Bing, "The Limits of Vision: Yang Hongwei Solo Exhibition" was unveiled at the Zhuzhong Art Museum.
Yang Hongwei's creations have consistently explored the corporality of the media as his works are endowed with both conceptual shocking energy and visual freshness. In recent years, Yang Hongwei has begun to further break through the limitations of visual art itself, and he uses the ancient technique of printmaking to connect with contemporary vocabulary.
Exactly as the academic chair Xu Bing said, the contemporary nature of art does not depend on classical and contemporary styles, nor does it depend on the transformations between trends, but it's up to the ability of the artist to handle the relationship between "tasks" at the studio and the epochal scenery. It is difficult for the "existing" genre to determine accurate words today, but the artist needs to find his own grammar, at the moment when new artistic language appears, and it could be said that part of the job of an artist should be to do as has been accomplished. The history of art always records the artists who have completed this part of work.
By exploring the contemporary genes carried by printmaking, Yang Hongwei has observed a variety of perspectives. His thinking on the relationship between the finite and infinite, touches on the core that no one from the pluralistic art field has reached, thus pushing forward the frontier of possibility that printmaking language extends. In the process of exploring the pluralism and modular aspect of "graphic type font", he has gained the freedom to cross the boundaries between the traditional and modern while breaking the distinction between simulated media and digital media.
The exhibition will remain on view till 9 September.
About the exhibition
Dates: 11 August-9 September
Venue: Zhuzhong Art Museum
Address: Yanxitai, Jushan Road, Sijiqing, Haidian District Beijing
Tel: 8610/62735559
Courtesy of the artist and Zhuzhong Art Museum, translated and edited by Sue/CAFA ART INFO, for further information please visit www.zzart.com.cn or contact info@zzart.com.cn.
Related posts: