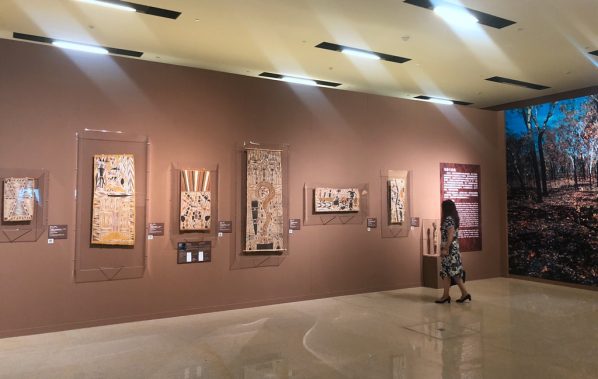 Featuring over 150 selected artworks and objects from the National Museum of Australia's significant collection, "Old Masters: Australia's Great Bark Artists" as the unprecedented display of Arnhem Land artworks, was unveiled at the National Museum of China in Beijing on 3 July.
"This delicate and beautiful collection of Arnhem Land bark paintings is one of Australia's great cultural treasures and the National Museum of Australia is delighted to share them with Chinese audiences,"said Dr Mathew Trinca, Director of the National Museum of Australia.
With over 2000 works of art on bark, the National Museum of Australia holds the world's largest and richest collection of bark paintings. With 123 bark paintings created between 1948 and 1985, 18 carvings, 10 painting tools and 3 log coffins, this exhibition in China highlights the works by master painters including Yirawala and Narritjin Maymuru, Mawalan Marika and David Malangi, from western, central and eastern Arnhem Land.
National Museum senior curator Dr Michael Pickering said Aboriginal Australians boast one of the world's oldest continuing art traditions: "The three different regions represented in this exhibition have very different painting styles and we know overseas audiences will be fascinated by their depictions of Australian plants, animals and Indigenous culture," said Dr Pickering.
Aboriginal and Torres Strait Islander communities have inhabited the Australian continent for at least 65,000 years and their rich and diverse culture is reflected in the barks' intricate designs. An article in the London Times in 1948 described Aboriginal painters of Australia's Arnhem Land as 'old masters'. Australia's master bark painters took use of a rich repertoire of established iconography, as mentioned by Margo Neale who serves as Principle Advisor to the Director & Senior Curator at National Museum of Australia, to establish the relationship with their ancestors, their works represent their identifications or passports indicating "who they are, where they from, and what they belong to". The cultural iconography of snake resembles the Chinese dragon, which reflects the aboriginal thinking on their origin.
With paintings from three stylistic regions including: western Arnhem Land, where figurative images predominate; eastern Arnhem Land, where the emphasis is on geometric and conventionalized imagery; center Arnhem Land, where artists tend to combine both approached mentioned above, the exhibition conduct a profound survey on the major themes of bark painting, from the ancestral realm to expressions of identity and reflections on contemporary life.
Aboriginal artists from Arnhem Land were specially invited to perform traditional songs and explain the skills and stories of bark paintings on the opening ceremony. As the celebrated bark artist Narritjin Maymuru once said, "Through paintings I will teach you first the surface stories…the deeper meanings I hold in my hands." Painting on bark is just one way of communicating and energizing sacred stories and power of the First Australians. This exhibition is not just a tribute to the artists, their families, descendants and communities, but it also serves as a bridge between the world's oldest continuing cultures while inspiring the Chinese audience with their fascinating statements.
The Old Masters exhibition will tour mainland China and Taiwan for 20 months, opening at venues including the National Museum of China, Beijing (3 Jul – 3 Sept 2018); China Art Museum, Shanghai ( 17 Sept – 18 Nov 2018) and Sichuan Museum, Chengdu (11 Mar–12 May 2019).
Courtesy of Australian Embassy in Beijing, text and photos edited by Sue/CAFA ART INFO
Related posts: