On the afternoon of August 22nd, 2015, IAAF World Championship launched with a colorful opening ceremony in the Bird's Nest in Beijing. A "little swallow" in the Bird's Nest had drawn much attention from the audience, it is the official mascot of the event, named "Yan'er", which was jointly designed by Vice Dean of Design School of CAFA, Prof. Lin Cunzhen and Ding Ming, a student from CAFA. Ever since the 2008 Beijing Olympic Games, Beijing Paralympic Games, Nanjing Youth Olympic Games, Nanjing Asian Youth Games, Application for the Winter Olympics and other internationally renowned events, games and activities, designers from CAFA have revealed their strength in international competitions.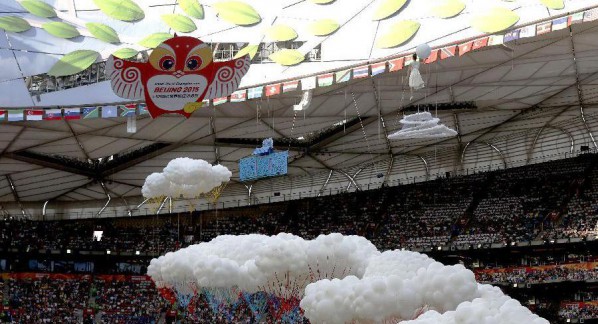 In June of 2014 when the summer vacation approached, the organizing committee of the World Athletics Championships failed to choose a design of a mascot that satisfied them after the first round of the design competition, thus they invited Prof. Lin Cunzhen to participate, finally they established the preliminary image of "Yan'er" the following month, they gradually improved and perfected the system and various sports forms.
At the very beginning, Ding Ming had designed an image of a black horse which he thought coordinated with the athletics, under the guidance of Prof.Lin Cunzhen, he changed it into the image of a Beijing Sand Martin combined with the elements of traditional kite. It depicts an abstract Beijing Sand Martin which is usually seen in Beijing as based on the makeup worn by the Beijing Opera and golden-winged swallow kites. It took them over a month from the start of the design to the release of "Yan'er".
As an important visual element of the 15th IAAF World Athletics Championships in Beijing, "Yan'er" serves as the promotions ambassador, promoting Chinese culture and features of Beijing, and it especially carries the mission of the athletics education among the masses.
Text by Wang Donglin, Photo Courtesy Ding Ming, edited by Sue/CAFA ART INFO
Related posts: