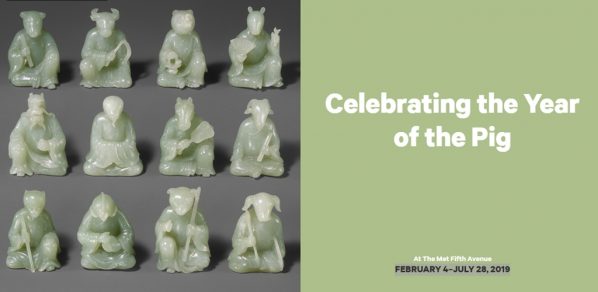 This exhibition will feature depictions of pigs created by Chinese artists within the last 2,000 years. Particularly notable are a sixth-century pottery figure of a stout pig in recumbent position and two sets of Chinese zodiac animals, which illustrate both the universal appeal of pigs as a symbol of wealth and the integral role that they played in human life.
The Pig is the twelfth of the 12-year cycle of animals which appear in the Chinese zodiac related to the Chinese calendar. In the continuous sexagenary cycle of sixty years, every twelfth year corresponds to hai, 亥; this re-recurring twelfth year is commonly called the Year of the Pig 豬. There are five types of Pigs, named after the Chinese elements. In order, they are: Metal, Water, Wood, Fire, and Earth. These correspond to the Heavenly Stems. Thus, there are five pig years in every sexegenary cycle. For example, in the year 2019, the Earthly Branch is the twelfth, hài, and the Heavenly Stem is the sixth, jǐ 己. The Chinese New Year in 2019 is February fifth: this corresponds with the beginning of both the sexegenary year of jǐ hài and also the zodiac year of the Earth Pig. (Source: Wikipedia)
About the exhibition
Dates: February 4–July 28, 2019
Venue: The Metropolitan Museum of Art
Courtesy of The Metropolitan Museum of Art, for further information please visit www.metmuseum.org.
Related posts: