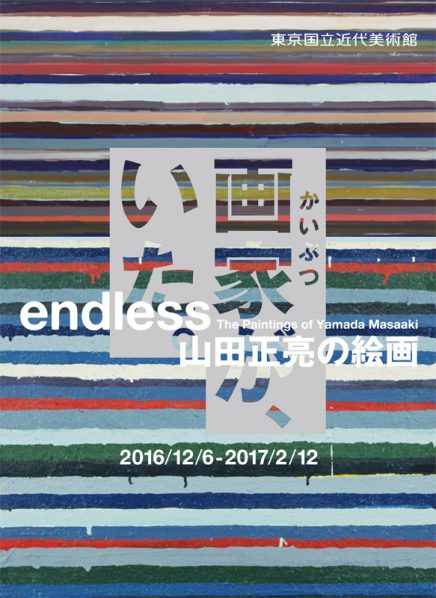 Unifying his life with the act of painting, Yamada Masaaki distanced himself from artistic trends and kept on painting in solitude until his death. Organized by The National Museum of Modern Art, Tokyo, endless: The Paintings of Yamada Masaaki is the first major retrospective of the painter known for his stripe motifs, presenting not only over 200 works including all of his important works but also his autograph notes on production that are publicly shown for the first time.
Highlights of the exhibition
Six years after the painter's death, this is the long-awaited, first major retrospective of Yamada Masaaki. Presenting 181 oils on canvas and 38 works on paper, it is one of his largest solo shows to date. In addition, over 50 autograph notebooks on production are shown for the first time. Including his sketches, the notebooks are attractive themselves. Yamada's oeuvre comprises 5,000 works. Each of them shows unique expression, telling of 5,000 discoveries made through 5,000 struggles.
In our time, when diverse information overflows everywhere and senses of values drift around, Yamada's art seems to show the richness of single-mindedness. Yamada is now gaining international attention as an artist whose work presents a new viewpoint on postwar Japanese art. For instance, the Frieze Masters Art Fair in London included his solo show in October 2016.
The exhibition spaces feature state-of-the-art LEDs to allow visitors to fully appreciate the beauty of colors on which the painter kept focusing. The galleries include a space where visitors can experience the atmosphere of the painter's studio through the real things that Yamada used to paint.
About the exhibition
Dates: December 6, 2016 – February 12, 2017
Venue: The National Museum of Modern Art, Tokyo
Courtesy of The National Museum of Modern Art, Tokyo, for further information please visit www.momat.go.jp/english.
Related posts: