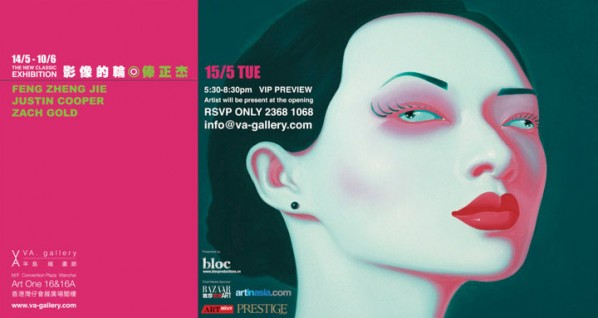 The hotly anticipated retrospective New Classic Exhibition at the VA Gallery showcases renowned Chinese artist Feng Zheng Jie's works in juxtaposition with a series of interpretive photographic portraits by New York fashion photographer Zach Gold and Paris based beauty photographer Justin Cooper. Bloc Productions, a Beijing based photography agency, invited Zach Gold and Justin Cooper, globally recognised masters of their own genres, to create their own photographic manifestations of Feng Zheng Jie's most recognised paintings of young confident and powerful Chinese women with empty white eyes. The results are 8 striking images of smooth skinned flawlessly coiffed supermodels.
Four of the images were shot in Beijing by Justin Cooper while Zach Gold executed the other four in New York. Soraya Dayani, New York fashion stylist whose clients include Vogue, ID, Dazed and Confused to name a few worked with Zach in NYC on styling while Chinese fashion designer and creator Christine Lau produced a on-off bespoke wardrobe. Justin Cooper's beauty shots were styled by hair stylist Chen Feng & He Zhi Guo while make-up was done by Wang Qian & Xue Song in Beijing. The project was orchestrated and art directed by Fran Lam who believed that this experiential show brings together leading artists in their fields to create one inspired experience; a fusion of fashion, art, photography, design and creativity.
VA GALLERY(半岛维画廊) is one of the most leading contemporary art galleries located in Hong Kong with many years of professional experience in the art industry. VA focuses on Contemporary Art– both Chinese and Western. Its mission and commitment is to introduce and promote worldwide exceptional not only first- and second-generation artists but also young and emerging Artists with our regular curated exhibitions. Along with holding professional exhibitions, VA deals with Art publishing and works closely to maintain a great relationship with international curators, critics, art institutions and the media.
Artists and Production Team:
Feng Zheng Jie
Feng Zheng Jie is clearly one of the most important Chinese contemporary artists working today. While the subjects are not always feminine, it is these portraits of the supremely self confident, young, powerful Chinese woman for which he is best known.
Reminiscent of Warhol's screen printed celebrities, Feng's paintings reflect a vision of futuristic pop. His generic portraits of women are influenced by promotional imagery: their exotic colours, electrified auras, and wind machine hair exude the glamour aesthetic of commoditized desire. Feng appropriates these staples of western kitsch as a readymade lingo for a duplicity of ideology. His work is often discussed as capitalist critique, his empty eyed models posing as frivolous and vacant symbols. Neither western nor Chinese in appearance, Feng's femmes fatales are a super-hybrid of commercial beauty, a science fiction product of globalisation.
Painted in a massive scale, Feng's canvases replicate the billboards from which they were inspired. Without text, or accompanying products, Feng's paintings streamline their hard-sell ethos. Removing all distraction, he exposes the essence of temptation, magnifying the sex appeal of a fantasy lifestyle and its gulf of intangibility. Transposing these disposable sentiments through his highly refined painting technique, Feng glorifies the allure of advertising as epic, enduring, and numbingly empty.
Justin Cooper
Australian-born Photographer, Justin Cooper, is known for his alluring and engaging fashion and beauty images. Cooper's personal work is an exploration of the face as a portal that resonates against the inner feelings. His work serves as an inquiry, rather than a statement. Fashion photography is a representation of desire, it reflects movements in popular culture. Cooper often balances this focus on modernity by punctuating his images with references to the past.
"I prefer the sitter to be passive to the camera, or caught in its gaze." Using the face as a tool for narration allows Cooper to probe, and authenticate, notions of beauty and to transform the editorial sphere into a medium for commentary. Cooper studied art and commercial photography at Royal Melbourne Institute of Technology and later at the College Of Fine Art – Sydney. His images feature regularly in publications throughout Europe and Australia, with commissions including a 50-page editorial spread for Harper's Bazaar.
Cooper's work has taken him from Sydney to Hong Kong, New York, London and Paris, where he is now based.
Zach Gold
Zach Gold began his professional photography career soon after graduating with honors from Parsons School of Design in 1995. In 1997, he was selected by the New York Art Directors Club as one of the top 100 artists under 35 in New York City. He was one of the first artists in the world to successfully blend the subtle complexities of both camera and computer to produce photorealistic digital art. Articles about his groundbreaking digital illustrations have been featured in French Photo, Rojo, Photo District News, Creativity, AdWeek, Bild (Sweden), Profifoto (Germany) and he was the youngest artist to be included in Graphis. Introducing him as "one of the leaders in creative image making," Peter Jennings presented Zach with the International Center of Photography's "Young Photographer of the Year" award in 2000. Other award recipients that evening included Helmut Newton and Robert Frank. Zach's work was exhibited during New York's annual fashion shows in the fall of 2001, where he was named "one of the ten photographers changing photography." Zach has also recently co-created The Playground with Julie Ragolia. The Playground will be an unbound collection of fashion, art and photography from the world's leading creative people.
Soraya Dayani –Stylist (New York)
After studying textile and fashion design in Liverpool in the early nineties, Soraya returned to her native London to produce visuals for launch parties and fashion events. After four years working in print design, Soraya gave up the sketchbook and began styling, soon becoming a contributing fashion editor at i-D magazine.
Soraya has worked closely with photographers such as Andreas Sjodin, Karen Collins, Mariano Vivanco, Giampaolo Sgura, Yelena Yemchuk, , Nicolas Moore, Guy Aroch, Nathaniel Goldberg, Max Vadukal, Catherine Servel, Ellen Von Unwerth, Takay, Vanina Sorrenti, Kai Z. Feng, Paul Wetherall, Camilla Akrans and Alex Cayley as a regular contributor to numerous international titles including In Style, i-D, 10 Magazine, Vogue Spain, Vogue Nippon, Flair, French Magazine, Dazed & Confused, Big Magazine, L'Officiel, Muse, Zoo Magazine and Lula.
Soraya's client list includes Esprit, H&M, Saks Fifth Avenue, Neiman Marcus, Bergdorf Goodman, Target, Evisu, Intimissimi, Giuseppe Zanotti, Pepe Jeans, Oil of Olay, Avon, MaxFactor and KMS. She has worked as a consultant for UK's fashion forum Top Shop – Unique collection Levi Strauss, Dockers, Lee Jeans as well as consulting and teaching at the Royal College of Art, MA fashion Program.
Soraya is currently based in New York.
Christine Lau – The Fashion designer
Everything is handmade, scanned, manipulated and composed.
Fashion designer Christine Lau was born in Beijing and raised in Hong Kong. At the age of 18, she was accepted by Central Saint Martin's College of Art and Design and trained as a textile designer. After graduation, apart from working as a textile designer, her enthusiasm for fashion motivated her to teach herself to become a fashion designer. The multi-cultural environment she grew up in not only influenced her creative views deeply but also played an irreplaceable role in the forming of her distinctive style for fashion. In 2009, taking her background in textile design as an exceptional advantage, the 24-year old reinvented herself as a fashion designer and found the fashion label Chictopia.
Chictopia's philosophy is to create cutting edge elegance along with original designs. The designer ingeniously blends retro elements and modern simplicity together in order to create a style which is exquisite yet classy. Christine Lau believes fabric is the key to fashion, therefore she is very specific when it comes to selecting fabrics for her collections. Designing her own quirky fabric prints for each collection is an unmissable feature of Chictopia, which also makes Chictopia an one of a kind fashion label compared to others. Providing individual and wearable designs at a reasonable price is always the priority of the label. A Chictopia lady is independent, confident and elegant, who pursues, influences and passes on beauty with passion and attitude that is unique in her own way without external influences.
Fran Lam – Creative Director
The Creative Director with a background in advertising.
Fran Lam believes the creative process is an act of expression. Hailing from Hong Kong, a career spanning global brand advertising and lead photography over 12 years in Beijing, from Ogilvy to Getty Images, means Fran lived through an explosion of artistic display in China, centred on the capital city.
Fran now works across a range of mediums, from representing leading photographers at Bloc Productions to consulting with global companies and advertising agencies across China in conception, creation and execution of their campaigns. Fran now looks to fuse this experience into a single expression communicated through multiple mediums that is: The New Classic.
Drawing on a background of varied culture, creative styles and contacts, Fran conceived this innovative exhibition, combining separate forms of creativity – fashion, art, style, design and photography – to launch a new form of expression in a single act across Hong Kong, Beijing, and Shanghai. Fran is drawing together leading exponents in their fields to combine new ways in one show, beyond marketing, beyond the client, simply a passion for pure expression.
BLOC Productions – Artist Representation and Production Services China and Asia
Bloc Productions is a Beijing based agency that represents a roster of internationally renowned photographers, directors and stylists for the China and Asian advertising and fashion market. Our talent is supported by a locally based, multi-lingual production team who are capable of producing anything from simple one-day studio shoots to 30 day multiple location car shoots.
About the Exhibition
Duration: 15.5.2012 — 10.6.2012
Opening: 15.5.2012 Tuesday 5:30 – 8:30pm
Venue: VA Gallery
Add: NO.16 & 16A Art One, M/F, Convention Plaza, 1 Harbour Road, Wanchai, Hong Kong
Tel: 852.2368.1068
Courtesy of the artists and VA Gallery, for further information please visit www.va-gallery.com.
Related posts: