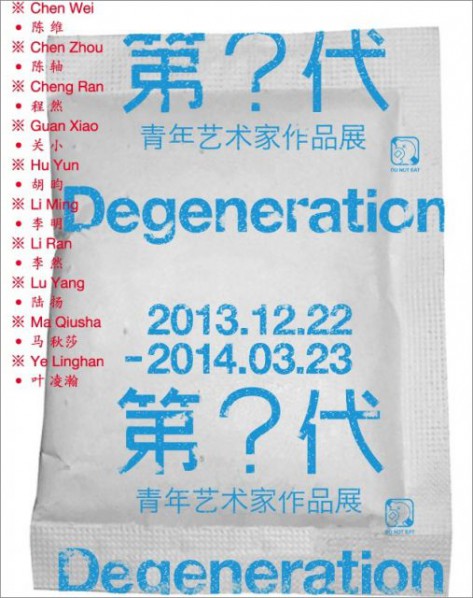 The OCT Contemporary Art Terminal Shanghai recently showcases "Degeneration" group exhibition, exhibiting works by the most representative young artists of Chinese new media art circles including: Chen Wei, Chen Zhou, Cheng Ran, Guan Xiao, Hu Yun, Li Ming, Li Ran, Lu Yang, Ma Qiusha, and Ye Linghan, trying to explore the issues of continuation and Chasm in contemporary art. The exhibition will continue until March 23, 2014.
It's a striking feature of the exhibition that it is composed of ten "micro exhibitions", applying separate but connected spaces to showcase the works by each artist. The arrangement of the exhibition intends to constitute a coherent path to indicate the evolution and future direction of the young artists, telling the audience that young artists also have experiences, while "mature" artists might keep a fresh spirit over time. Although we disapprove of the cliché to describe young artists, we will explore the new possibility of the "youth".
Although the works by some artists such as Lu Yang, Chen Zhou, Li Ming, Ye Linghan create a quite absurd space and incredible atmosphere, the exhibition is not simply about "demons". Language is pushed to the limit, exploring the new formulation and reproduction of the possibility of life by the individual standard of a young artist: such a possibility is realized by changing the well-known work, or by suggesting the reconstruction of some modes to evoke the atmosphere (Cheng Ran); it also can be realized by building an unknown and complex image that is from a parallel world (Chen Wei). The exhibition is also about distortion and the disorder of perception, describing how we experience and produce our knowledge in the rapidly changing era (Guan Xiao); about the history and memory including the generation of "father", so describing how we create our own thinking world (Li Ran and Hu Yun); finally, tales of our struggle with the perceptive evil, as well as how we maintain our mind and bodies in the fight (Ma Qiusha).
Courtesy of the artists and OCT Contemporary Art Terminal Shanghai, translated by Chen Peihua and edited by Sue/CAFA ART INFO.
Related posts: