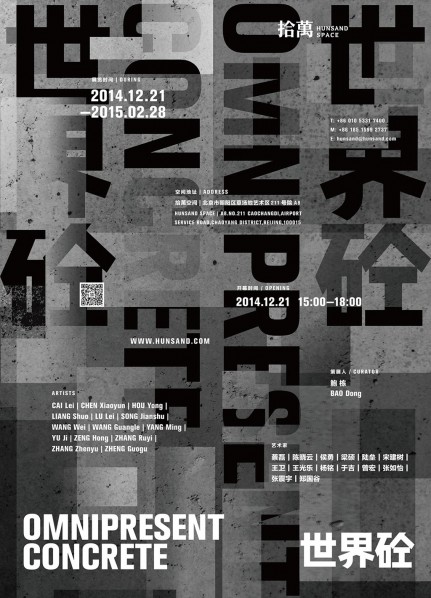 Omnipresent Concrete
" tóng " is cement, or rather, concrete. " tóng"[砼] was a new creation of Chinese characters in 1953, widely used in construction engineering. In 2013, the world's cement production was 40 million tons, and China's cement output was 2.42 billion tons. Relative to world's grain output 24.79 million tons and crude steel production 1.607 billion tons in the same year, cement was the most incremental artifacts, and also the largest stock of human creation.
Cement is a kind of human-made artifact, but also a basic element for human creation. It is composed of water and mud. However, these two basic elements, water and mud, are widely used to create human beings in many creation myths. Therefore, cement is not only a material in form, but also a real material. It is an existed substance in the world. The huge usage amount of cement makes it become one of the most important things in people's life. Cement is everywhere especially in China. Cement gives us a minimal sense of reality, which human no longer have from the pure nature.
With regards to the cement, it doesn't have any form and body basically; it is real and visible, for daily use. However, it is always hidden. From this level, cement nearly like "the Thing" Lacan said – cement is a thing that can not be expressed and described, but always be seen by people everywhere.
"Omnipresent Concrete", curated by Bao Dong as the opening exhibition of Hunsand Space, invites 14 artists to express and describe cement as well as the existed experiences related to cement in different ways. The meaning of their works and themes has no relation to the reality. Their works are not used to express the reality, but to present the reality itself. Some works showed in the exhibition will be kept as some part of the building and the exhibition environment of Hunsand Space for a long time.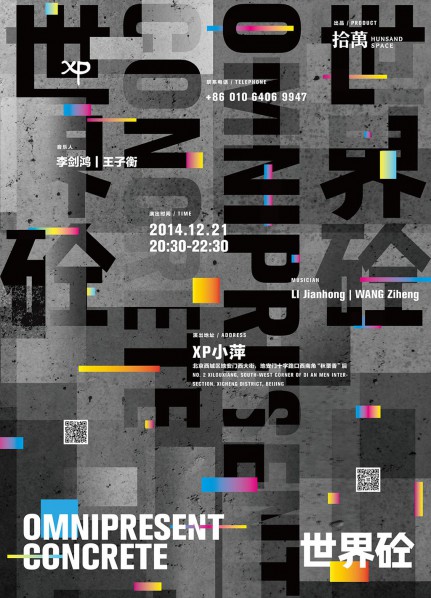 As the extension of this exhibition, musician Ji Geng will make a special planning for the music scene of "Omnipresent Concrete" at Beijing School Bar in the opening night, inviting domestic musicians in various styles like Li Jianhong and Wang Ziheng to show different music, thus interacting with the exhibition. Similarly, using "cement" as the starting point, though authors in two different fields have different ways of reacting, all of them attempt to try their best to penetrate the current systems of aesthetics and hearing, letting the audience have a feeling of distance and strangeness towards the phenomenal world of inertial system and appreciate different atmosphere through music symbols.
About the gallery
Hunsand Space, found in 2014, is located in No. 211 Caochangdi Art Area. Hunsand Space keeps vigilant watch over the normal exhibitions of "Cube". Hunsand Space, starting from syntax and semantic structures of contemporary art languages and extending to wider fields, hopes to motivate people to find the ignored parts of the present culture and take the value of contemporary art ideas to you and me through on-going exhibitions and projects.
About the exhibition
Curator: Bao Dong
Artists: Cai Lei, Chen Xiaoyun, Hou Yong, Liang Shuo, Lu Lei, Song Jianshu, Wang Wei, Wang Guangle, Yang Ming, Yu Ji, Zeng Hong, Zhang Ruyi, Zhang Zhenyu, Zheng Guogu
Opening Ceremony: 12.21, 2014 16:00—-18:00 Hunsand Space
Exhibition Venue: Hunsand Space
Address: A8.NO.215 CAOCHANGDI, AIRPORT SERVICE ROAD, CHAOYANG DISTRICT, BEIJING, 100015
Tel: 010-53317400 18515992737
E-mail: hunsand@hunsand.com
Web: www.hunsand.com
Omnipresent Concrete
Planner: Ji Geng
Musicians: Li Jianhong, Wang Ziheng
Show time: 12.21, 2014 20:30—-232.30 XP Bar
Address: XP Bar
Courtesy of the artists and Hunsand Space, for further information please visit www.hunsand.com.
Related posts: