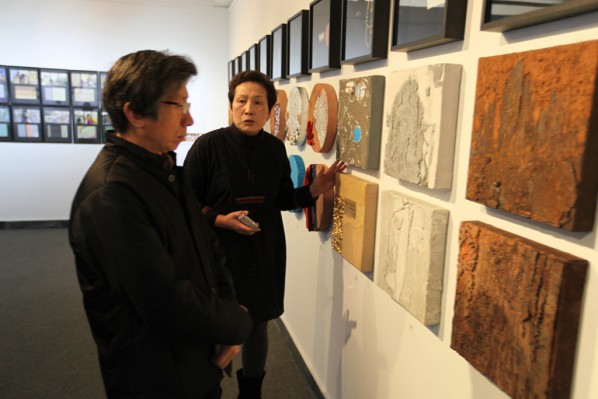 "The Oriental Rock-Dyestuff • The Tour to Buddha's Realm" is part of the art investigation course of the Training Class of Chinese Rock-Dyestuff Painting, hosted by CAFA. The training class is a two-year educational system, arranged as 3 art Investigation courses: from Ajanta Grottoes and Ellora Caves in India, miniature paintings in the collections of museums, to the copying of frescos painted in Qiuci Caves, an investigation of the frescos at Dunhuang Grottoes, and the finally an observation of Japanese Ukiyo-e prints and Japanese modern paintings, as well as a visit to the Japanese University of the arts and the artists' studios.
In January 2015, the training class went on a 21-day art tour to India, visiting Ellora Caves and Ajanta Grottoes in the Deccan Plateau, Sanchi Stupa in Madhya Pradesh, then they centered their visit on Delhi and Rajasthan and visited the collections of miniatures collected by 5 museums including the art museum of BHU, Varanasi, the Prince of Wales Museum, Mumbai, City Palace, Jaipur, Mehrangarh Fort, Jodhpur, and Delhi National Art Museum; they visited the lively folk manual workshops: sari weaving, cloth dyeing, paper making, jewellery and cloth collage workshops. All the students collected a lot of samples and were deeply touched. They combined the experiences with the foundation course of rock-dyestuff painting, through an analysis of form to explore the creative thinking and aesthetic characteristics of miniature painting, through this collection they were able to record urban color, translating the material relationships. From April 1 through to April 10, 2015, "The Oriental Rock-Dyestuff • The Tour to Buddha's Realm" fully showcases the result of the observation at the main building exhibition hall of building 5, CAFA.
"Rock-Dyestuff Painting" was a branch of Chinese painting, and a typical dialect of Oriental painting.
Would it be possible to reproduce the original oriental geographical environment, historical time and space, cultural scene of rock-dyestuff painting, study the self cultural genes, aesthetic orientation, speech form, mutual reasoning and so on, in order to find the most valuable shining point? This is the original intention of the Oriental rock-dyestuff art investigation. It aims to askquestions and begin an exploration.
Courtesy of the artists, translated by Chen Peihua and edited by Sue/CAFA ART INFO
Related posts: