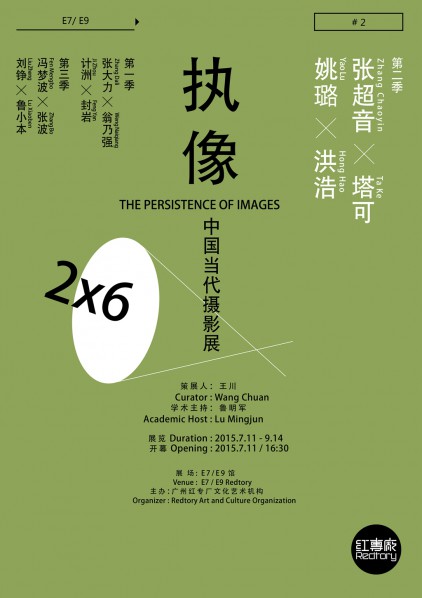 On July 11th, 2015, The Persistence of Images–Chinese Contemporary Photographic Exhibition (Season II) will be held in E7 / E9 at Redtory. This exhibition was organized by Redtory Art and Culture Organization, the curator of the exhibition was Wang Chuan and it's Academic host was Lu Mingjun. Themed with history, time, city memories and daily lives, this exhibition presents the understandings toward photography and the experiment on such medium from different perspectives.
The organizers will invite 12 artists that to presents works dialogue respectively in three seasons exhibition: Weng Naiqiang, Zhang Dali, Ji Zhou, Feng Yan, Zhang Chaoyin, Ta Ke, Yao Lu, Hong Hao, Feng Mengbo, Zhang Bo, Liu Zheng, Lu Xiaoben respectively. Their embracing unique working methodology and their understandings toward photography or video are divergent.
As the curator Wang Chuan said, they have distinctive identities and were born in different ages. They possess various opinions toward photography, and their ways of taking photos are virtually diversified. Nevertheless, they repeatedly make inquiries about the substantial questions of photography and images with their own approaches. They persisted but never obsessed. If the research on a particular case can explore the real meaning of an individual's thoughts and the content of a practice, it is more valuable to investigate such case in all kinds of relations and comparisons. Thus, the similarity and distinction of artist's medium situation, object choice, strategy, and aesthetic judgment will be definitely enlarged and accentuated, which is exactly the origin of this exhibition's basic structure–twelve artists/photographer, 6 relatively independent but interactive dialogues, alternated emerged within three rounds.
This exhibition will invite two groups of artists that Zhang Chaoyin, Ta Ke, Yao Lu and Hong Hao. Professional Photographer Zhang Chaoyin, has been engaging in humanistic photography, geographic photography, cultural photography and religionary photography. Ta Ke, is a young artist roams around traditional plastic arts, new media and cultural diversity between east and west. Their dialogues developed on the basis of visual difference, but still held some resemblance. They share with the same accumulation far beyond photography, the same challenge to photographic materials, the same rigorousness of techniques and qualities. Either discovering the ancient poetry or digging out the secret Tibet, their works consistently tell us photography is still the most vital way of recognizing the world and inspiring wisdom no matter how time changes.
As the most important practitioner in Chinese contemporary photography, Yao Lu and Hong Hao, with the academic background of Wood Block Printing in Central Academy of Fine Art, demonstrate us two diverse artistic forms. Hong Hao integrates Chinese traditional scroll with his thoughts and feelings about time, which have also been combined with western photographic medium. Meanwhile, Yao Lu perfectly illustrates the theme of "replacement" and "masking" of contemporary arts by the means of Landscape Painting of Trash. Classical structure covered with contemporary surface indicates traditional plastic arts and photographic proficiency, as well as her ideology and method originating from personal culture complex. The works bring us her love and worries of Chinese classical art, and her cautiousness when applying contemporary visual medium as well.
This exhibition will remain on view until September 14 th, 2015.
About the exhibition
Curator: Wang Chuan
Academic Host: Lu Mingjun
Artists: Yao Lu, Hong Hao, Zhang Chaoyin, Ta Ke
Opening: 2015.7.11 / 16:30
Duration: 2015.7.11—9.14
Venue: E7 / E9, Redtory
Organizer: Redtory Art and Culture Organization
Courtesy of the artists and Redtory, for further information please visit www.redtory.com.cn.
Related posts: