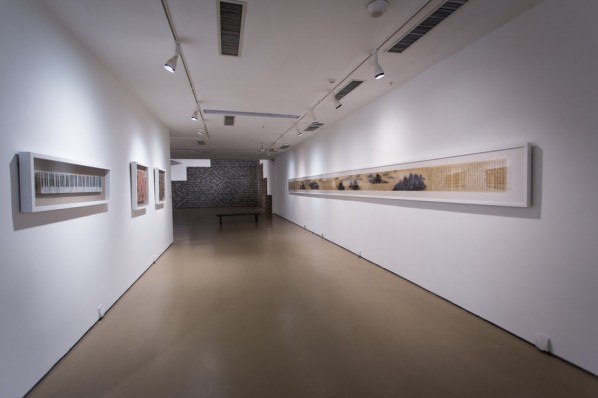 At half past three on September 25, "The Remedy" solo exhibition of Zhang Yanzi was inaugurated at Today Art Museum. Organized by Today Art Museum, co-organized by SUDLAB Arte Contemporanea, the exhibition presents Zhang Yanzi's latest works over the last three years, a total of over one hundred works. Her works on display include, Registration series, The Remedy series, Qi(Flow of Energy), OK, Intrepidity, Whose Remedy series, Aches, Itches, Numbness and etc. Her creations continue to be in ink and wash and she has continued to employ these as the main medium, supplemented with mixed media, installations, ready-made materials, handmade pieces and so on.
Presided over by Ms. Li Xiaoqian, Xu Bing, Vice-president of the Central Academy of Fine Arts, Gao Yi, Deputy Curator of Today Art Museum, curator Xu Lei all addressed the exhibition. Besides, honored guests that have been invited to attend the opening ceremony, including the representative of Embajada de Colombia en China, Li Yang, Deputy Dean of School of Chinese Paintings, CAFA, Prof. Chen Qi from CAFA, renowned poet Prof. Xi Chuan, Miss. Xu Lili who represented SUDLAB Arte Contemporanea.
"An artist that focuses on Chinese paintings as she does, Zhang Yanzi's perspective and intensive thinking touch me deeply with bitterness, or in a way create a stabbing pain. Owing to the domination of the West, for quite a long time, we 'have borrowed a lot experience from the West.' While we did not make good use of the extremely preeminent things in our traditional culture. As a matter of fact, we are still in dire need of 'the experience of how to utilize outstanding Chinese culture.' This selection of work by Zhang Yanzi provides vital inspiration for us on this. Besides, Zhang Yanzi has really and truly done the part of work an artist should fulfill. Quoad hoc, Zhang Yanzi has a special cue, as what an artist will accomplish eventually is that she needs to have a special feeling about the society and the epoch she lives in, she should tell about something that no one has approached before, through her very individualized language. By means of Zhang Yanzi's work, we can catch sight of her endeavor and efforts in this, "said Xu Bing, Vice-president of CAFA.
Gao Yi, Deputy Curator of Today Art Museum, spoke of Zhang Yanzi's art "it is endowed with strong personality, first of all she portrays her fine observation of articles for daily use, this exhibition could be taken as a showcase of her achievements in the last three years. Meanwhile, her observation of the things outside has been turned into the transforming process of digging deep into the inside. Curator Xu Lei spoke forthrightly that, actually for an exhibition, the real curator of the exhibition is the artist herself, since the artist has the internal clue about the relationship among her works, which the artist needs to grasp herself. Besides, all of us know that medical science is consistent with Chinese aesthetics, Zhang Yanzi produced these paintings from a medical perspective, and her work makes the audience's sense open, revealing a deeper indication and connotation behind ink and wash.
When the opening ceremony ends, Zhang Yanzi expressed her gratitude, "the preparing progress of the exhibition is 'both painful and cheerful', but from the installation to the opening ceremony with so many friends visiting, some of them even came from a far distance, I'm really touched, and satisfied as well as when I painted these this summer, I listened to a song named 'Hills' by Li Zongsheng all the time, what I want to say is just like it was sung in this song. Although I cannot write such a song, I meet all of you here and I feel like perhaps all of you are just like my "remedies", thank you so much!"
The exhibition will remain on view through October 9.
About the exhibition
Curator: Xu Lei
Organizer: Today Art Museum
Co-organizer: SUDLAB Arte Contemporanea
Dates: 25 September – 9 October, 2013
Opening Ceremony: 25 September, 15:30
Venue: Gallery 3, Today Art Museum, Beijing
Address: Today Art Museum, Building 4, Pingod Community, No.32 Baiziwan Road, Chaoyang District, Beijing.
Courtesy of the artist and CAFA ART INFO.

Related posts: