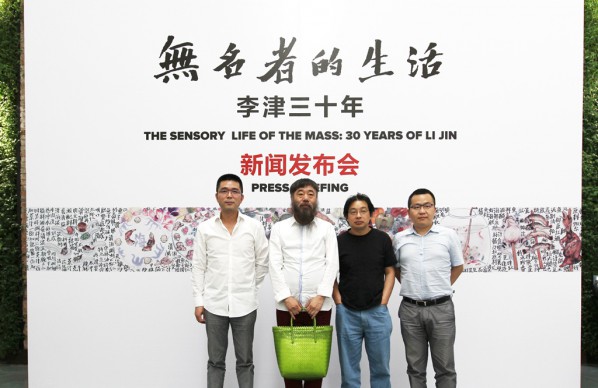 The Sensory Life of the Mass—30 Years of Li Jin, hosted by the Long Museum, and co-organized by the Hive Center for Contemporary Art and the Line Gallery, will be featured at the Long Museum Pudong on September 10, 2015. The exhibition is curated by Wang Min'an, it will last until October 10, 2015.
Li Jin was born in Tianjin in 1958, and graduated from the Tianjin Academy of Fine Arts Chinese Painting Department in 1983. During his time as a student, he began to follow the new wave in art, and in the 1980s and 90s, traveled to Tibet several times to complete the Tibet Series of Paintings. He participated in many major art exhibitions of the time, including Exhibition of Youth Art in a Progressing China and the 1989 China / Avant-Garde exhibition, and was a major figure in the 85 New Wave movement. Since the 1990s, he has created many painting series, including Hutong Life, Practice, Animals and Eat Drink Man Woman. As his works drew increasingly close to everyday life, he found an entryway for ink painting traditions into contemporary times.
This exhibition looks back over three decades of Li Jin's creative trajectory, beginning with the 85 New Wave, presenting nearly 100 works of his art supplemented by exhibition documents to present the new directions pioneered in Chinese contemporary art history by this important artist of the 85 New Wave.
Li Jin's artistic explorations over the past thirty years are important for the way in which they have perfectly integrated ink painting with contemporary life, presenting both in vivid form. His work is an affirmation of the contemporariness of ink art as well as the worldliness of contemporary life. In light of the dead end once faced by ink painting and the bad name that once hung over earthly delights, Li Jin's achievements are all the more praiseworthy.
For the past thirty years, Li Jin has constantly explored modern forms of ink painting. His experiments form an extremely important and valuable body of experience in the exploration of Chinese contemporary ink painting. His immersion in sensory and sensual indulgences has magically transformed his visual artworks into sensory artworks. He strives to fuse human nature into the paper, immortalizing fleeting moments of joy. Li Jin's works are comedies on the surface, but they conceal sadness deep within: the tragedy of inevitable death spurs his obsession with worldly life.
About the exhibition
Curator: Wang Min'an
Organizer: Long Museum
Co-organizers: Hive Center for Contemporary Art, Line Gallery
Opening: September 10, 2015
Duration: September10 – October10 2015
Venue: Long Museum Pudong 1st Floor Hall & Gallery 1
Address: No.210, Lane 2255, Luoshan Road, Shanghai
Courtesy of the artist and Hive Center for Contemporary Art, for further information please visit www.thelongmuseum.com.
Related posts: