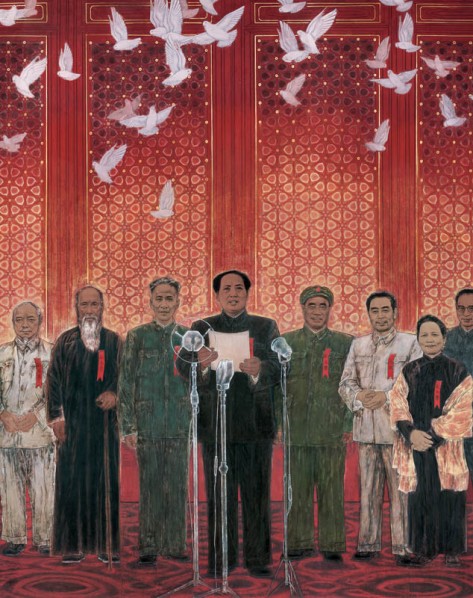 It is half a century since the establishment of National Art Museum of China (NAMOC) and the opening to the public. In the past five decades, it has actively explored and offered important contributions to the outstanding achievements of Chinese art, accumulating a national wealth of arts, strengthening public cultural services, performances of international artistic exchanges, and the promotion of the specialized art museums. Over the fifty years, the National Art Museum of China has collected important works from the Song and Yuan dynasties to contemporary times and focuses on featuring modern and contemporary Chinese art. As a national art museum, NAMOC is responsible for displaying fine selections to the public. With this in view, "Developing with the Times – Collection Exhibition for the Celebration of the 50th Anniversary of the Establishment of the National Art Museum of China" is carefully planned and organized, aimed at uniting the classic, featuring the deep accumulation of the national art for the public, a chance for the public to share the outcomes of the art creation. On the basis of previous academic research and exhibitions, relying on the fine collections, the exhibition further combs through the collections, deepening the study, making an effort to construct an exhibition, integrating the classical and historical with good visual taste, comprehensively demonstrating the development process of modern and contemporary Chinese art over the last hundred years. It features six sections of heritage and an introduction, the suffering and struggle, the exploration and extension, the master and home, reflection and openness, diversity and prosperity, reflection of the magnificent historical narrative of Chinese art over more than one hundred years. The genres include Chinese painting, oil painting, print, sculpture, cosmic books, new year painting, rice paper, watercolor, installation, comprehension, etc., many are going to make their debut.
About the exhibition
Duration: May 18 – July 8, 2013
Organizer: National Art Museum of ChinaVenue: Hall 1,2,3,4,5,6,7,8,9,13,14,15,16,17
Translated by Chen Peihua and edited by Sue/CAFA ART INFO, for further information please visit www.namoc.org.
Related posts: