The Second Academic Exhibition of Chinese Contemporary Prints is going to be opened to the public after it's initial opening from August 5th to 6th at the Today Art Museum in Beijing. This exhibition belongs to a series of academic exhibitions held by the Today Art Museum which intends to organise a framework of Chinese contemporary art. Founded in 2009, it is going to be held every two years with the aim of presenting the developments and evolutions of contemporary prints in China.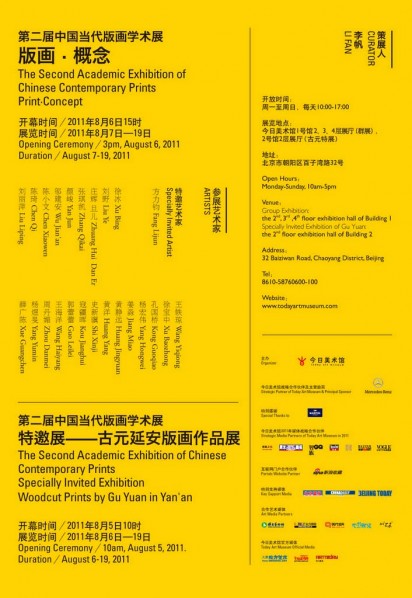 From the 1980s representative works and artists of various periods have emerged in the field of contemporary prints in China, which all have played a positive role in the development of Chinese contemporary art. Now this series of academic exhibitions on prints held by the Today Art Museum intends to place Chinese contemporary printmaking in the context of art history and international contemporary art, through the academic and experimental explorations from two dimensions of time and space to realize its comprehensive and continuing development and exchange.
The theme of this exhibition is "Print•Concept". Curated by Li Fan, Deputy Director of the Printmaking Department at CAFA, it is divided into two parts: Honorable Invited Exhibition—Prints on Yan'an by Gu Yuan; a group exhibition of "Print•Concept", which has Fan Lijun as its specially invited artist. Contrasting the works and concepts of Gu Yuan, renowned Chinese printmaker and art educator with the innovations and ideas of Fan Lijun which represents the new artistic trends in China, it will bring about discussions on the real "revolution" and "avant garde" spirit.
Zhang Zikang, Director of the Today Art Museum points out, "Works from Gu Yuan " and creations by 24 contemporary printmakers are put together on display and aims to build a dialogue between the huge gaps generated by time and space. This exhibition tries to search for the common spirits during the development in printmaking from the "Woodcut Movement" to "Contemporary Printmaking", thus the open patterns of successive printmaking can be discovered. Directed against the current situation of stiffness in printmaking, it can be taken as an inspiration for the future direction of printmaking in China.
The Second Academic Exhibition of Chinese Contemporary Prints
Print ·Concept
Organizer:Today Art Museum
Artist: Fang Lijun, Xu Bing, Liu Ye, Zhuang Hui& Dan'er, Zhang Qikai, Yan Jun, Wu Jian'an, Chen Xiaowen, Chen Qi, Liu Liping, Wang Yiqiong, Xu Baozhong, Kong Guoqiao, Yang Hongwei, Jiang Miao, Huang Jingyuan, Huang Yang, Shi Xinji, Kou Jianghui, Guo Leilei, Wang Haiyang, Zhou Danmei, Yang Yumin, Xue Guangchen
Opening Ceremony: 3pm, August 6, 2011
Duration: August 7-19, 2011
Venue: 2nd, 3rd, 4th floor exhibition hall of building 1
Specially Invited Exhibition Woodcut Prints by Gu Yuan in Yan'an
Artist: Gu Yuan
Opening Ceremony: 10am, August 5, 2011
Duration: August 7-19,2011
Venue: 2nd floor exhibition hall of building 2
Related posts: