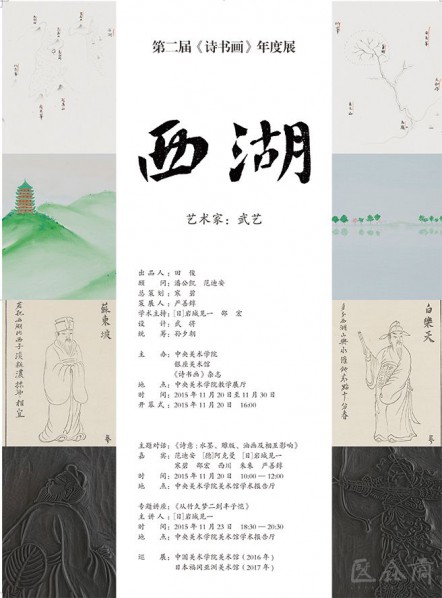 Jointly organized by CAFA, Inzone Art Museum, "Poem, Chinese Calligraphy and Painting" magazine, the Second Annual Exhibition of "Poem, Chinese Calligraphy and Painting –West Lake" will kick off at the Teaching Exhibition Hall of CAFA at 16:00 on November 20, 2015, and the exhibition will continue to November 30.
It will present three groups of works themed on West Lake, created by Prof. Wu Yi from CAFA, including the oil paintings "The 15 Sceneries of West Lake", the ink paintings "The West Lake Landscape Records", and the engravings "The West Lake Character Records". By using these moving pictures, Wu Yi shows us how he uses his distinctive artistic personality to wisely deal with the complicated current visual experiences faced by the artist, cleverly researching his own personality within the long historical legends and natural landscapes to an organic whole. Through his brush, we can not only appreciate the real interest of "the same rule of poems and paintings" once again, and rediscover the touching charm of the West Lake.
Pan Gongkai and Fan Di'an serve as Academic Advisers of the exhibition, Han Bi serves as General Planning, and Yan Shanchun serves as the curator. Prof. Iwaki Michi from Kyoto University, Japan, and Prof. Shao Hong from Guangzhou Academy of Fine Arts are specially invited to serve as the academic chairs, who specially write two thematic papers on the art of Wu Yi from the perspective of the history of Chinese and foreign art exchanges, including "Wu Yi's 'West lake' – Study of 'Modern New Chinese Literati Painting'", "The Six Questions of Art History Triggered by Wu Yi's Paintings".
On the morning of November 20, a thematic dialogue entitled "Poetry: Ink Paintings, Engravings, Oil Paintings, and the Mutual Influence" will be held at the Auditorium at CAFA Art Museum, the participating scholars include: Fan Di'an, Ackermann, Iwaki Michi, Han Bi, Shao Hong, Xi Chuan, Zhu Zhu, Yan Shanchun, etc. On the evening of November 23, Iwaki Michi will also launch a special lecture entitled "From Takehisa Yumeji to Feng Zikai".
Since it started, based on the outstanding performance of the overall planning and design of the exhibition hall, the Annual Exhibition of "Poem, Chinese Calligraphy and Painting" receives a lot of attention and is praised by all sectors of the community. The annual exhibition will continue to carry forward the academic advantage of the show that was held last year (the First Annual Exhibition of "Poem, Chinese Calligraphy and Painting" – Man • Woman), to present a great visual art exhibition for the public again.
After the first exhibition which is going to be held in CAFA, it will gradually be on shown at the Art Museum of China Academy of Art, Fukuoka Asian Art Museum, Japan, etc.
Photo courtesy of the artist, translated by Chen Peihua and edited by Sue/CAFA ART INFO.
Related posts: