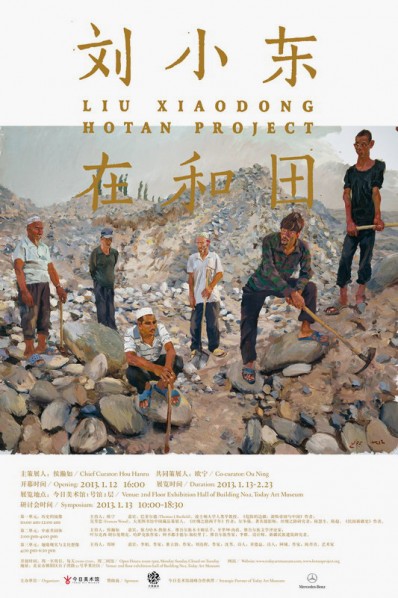 Liu Xiaodong and his team came to Xinjiang on 22 June 2012 and commenced the two-month "Liu Xiaodong's Hotan Project" documenting the life of jade miners in the region that is known for reserves of the precious stone. Liu carried on with his unique style of live painting established while producing the Three Gorges Series (2004 – 2005). He set up a temporary studio in his tent to accomplish this elongated project with sketches, diaries, oil painting and photography. A camera team was also present to document the entire progress in film.
In order to complete the project, Hou Hanru, chief curator of the project launched a complex series of programmes running in parallel with the painting. It includes on-site research, historical research, tournament exhibitions, film viewing, seminars and on-line publications. Co-curator Ou Ning led a group of researchers and journalists to complete research programmes on free expressions, which involved local writers, historians, musicians, craftsmen and so on, with the aim of revealing the reality through public opinion on various issues in local life.
The first exhibition of "Liu Xiaodong's Hotan Project" was held in August 2012 at Xinjiang International Exhibition Center, presenting East, South, West and North, four new works produced in Xinjiang and "Liu Xiaodong's Hotan Project", a documentary film produced by A Cheng and directed by Yang Bo. The second exhibition of the touring "Liu Xiaodong's Hotan Project" is to open on 12 January 2013 at Today Art Museum. Besides the four new works from Xinjiang and the documentary film, more of his latest accomplished works from Beijing are to be displayed as well as rare scripts, diaries and other materials will also be on display. A seminar under the theme 'In Central Asia: History and Reality' is to be held on 13 January 2013, expanding the vision from Xinjiang to the entire Central Asia. This public seminar, will feature experts and scholars from China and abroad, will look at the academic issues brought about by "Liu Xiaodong's Hotan Project" from a broader geographical perspective and cultural background. A catalogue of works and projects by Liu Xiaodong is also to be published before the exhibition closes on 23 February 2013.
This is an endeavor to explore and reveal the diversified and complex social and cultural landscape of Xinjiang through integration into the life of local folk. The humanitarian standpoint of the project is in clear opposition to that of the exotic. It sets up an example to seek reasons for and searches for the realistic meanings for the proceeding contemporary art and cultural research in such a changing modern reality.
About the exhibition
Organiser: Today Art Museum
Chief Curator: Hou Hanru
Co-Curator: Ou Ning
Opening: 12 January 2013
Duration: 13 January – 23 February 2013
Venue: 2nd floor exhibition hall of building 1, Today Art Museum
Courtesy of the artist and Today Art Museum, for further information please visit Today Art Museum.
Related posts: