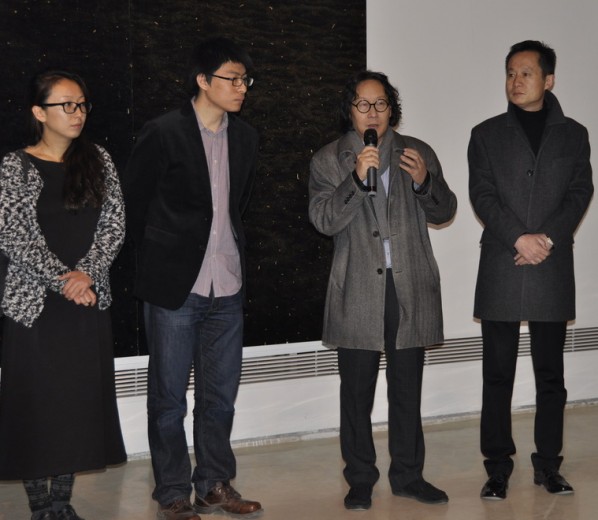 Organized by the Enjoy Museum of Art in 798 Art Zone, the second exhibition of touring "Unspoken Understanding – Works by Xu Bing's Postgraduate Students" opened at the Enjoy Museum of Art in 798 Art Zone on November 9, 2013, going through to November 19.
"Unspoken Understanding" is planned by Prof. Xu Bing, Deputy President of CAFA, and participating artists include his seven postgraduate and doctoral students from CAFA. The first exhibition was held at Taipei Eslite Gallery on July 6, 2013, as the start of a long term artistic exchange program for the cross-strait young artists, attracting the attention of the cross-strait media. Seven artists are different in the style of their works, full of fun, interpretation of the possibility of the extension of printmaking language to a varying degree, applying different perspectives and approaches to express their thoughts on art and lives.
Due to the novel effect of the exhibition, it was warmly received, thus the second "Unspoken Understanding" touring exhibition was determined to be held in Beijing. The seven artists adjusted the works again according to the new exhibition hall in Beijing, improving and perfecting the works previously shown in Taiwan after constant thinking, learning and creating for four months, in order to give a fresh and deliberate taste to the spectators. Xu Bing wrote in the preface: "Although I am a teacher and they are students, I clearly understand that they are essentially better than me, because they are younger. They certainly have a better sensitivity to new things, acceptance of future trends, as well as a different physiological adaptation from me. They represent the future. This is the biological level, and the evolutionary instinct. It is really enviable." The relationships between the teacher and students, teaching and studying are certainly enviable.
The time and space becomes more extensive, along with the artists' discovery of the soul, you would see: How does a man apply his body to touch the delicately invisible ? How does a big book equally communicate with a person? What stories do the gorgeous homochromatism silhouettes tell? Does ordinary mud have a heart? Or does the use of a text encourage you to experience the fleeting city; or encounter an edge of a sword in the soft space; or unfolding a grand chapter in time and history in a long scroll of painting, seeing the hermitage from the continuous sword marks… all of which are the experiences and thoughts of the spectators during a visit to the exhibition, too wonderful for words.
Translated by Chen Peihua and edited by Sue/CAFA ART INFO
Courtesy of the artists and the Enjoy Museum of Art, Beijing
Related posts: