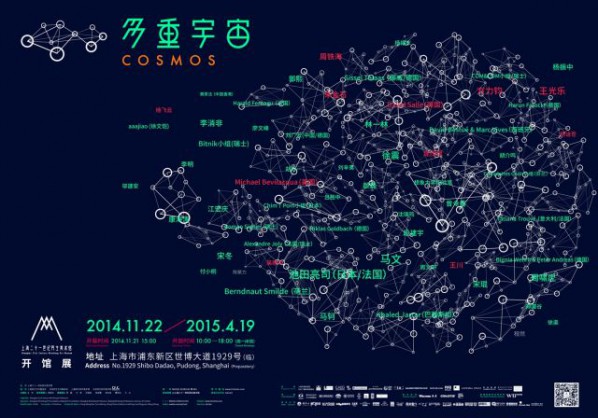 On Friday November 21st, 2014 at 3pm, the Shanghai 21st Century Minsheng Art Museum will celebrate its grand opening with its inaugural exhibition "Cosmos" (open to the general public on November 22nd). The Shanghai 21st Century Minsheng Art Museum ("M21") was established by the China Minsheng Bank and is located on the premises of the former French Pavilion in the World Expo Park in Pudong District. The grand opening exhibition—"COSMOS"—is composed of several modules: "Perceptual Resonance," "Experience and Action," "Three-dimensional Landscape," "Poetic Sound," "Displacement of Space," and "A Return to the Individual." "COSMOS" comprises hundreds of works from 52 artists and five art groups originating from 12 countries and regions including China, France, Japan, The Palestinian Territories, Italy, Finland, Switzerland, the Netherlands, Germany, Spain, Norway and Hong Kong SAR and encompasses painting, installation, video, sound, photography and other art medium.
Heading the curation of this exhibition is Dr. Ai Min, Vice Chairman and Secretary of the Social Responsibility Management Committee of the China Minsheng Banking Corporation and Chief Director of the Minsheng Art Foundation. The museum has also invited internationally renowned curator Li Zhenhua to act as co-curator for this exhibition. Created by Dr. Ai Min, the overall exhibition concept and theme references the infinite possibilities theoretically existing in the field of physics—a hypothesis of pluralism evinced in the exhibition title "COSMOS." Through this topic, the exhibition explores and describes the laws and constants of space, time, substance and energy, in order to examine how contemporary art defines and expresses our world. The exhibition was designed to inspire reflection by the artists and the audience on the ambiguity of "existence, the multi-dimensional nature of the world and the diversity of values of human society. This theme also deals with the reproduction of and inquiry into truth and the relationship between human civilization and narrative, which not only involves the imagination, but also the specific transformations of life and thought. Within this chaotic context of multi-dimensional realities, who doesn't play a variety of roles?
The works presented in this exhibition explore how humans perceive their relationship with the natural world (natural sciences), their relationships with themselves (the humanities or anthropology) and their relationship with architecture. The exhibition includes Sissel Tolaas's olfactory research and the Zen-like emptiness of the study's final presentation as well as other reflections on natural and human environments—each of these suggesting the beginnings of a comprehensive awareness. Artists tend to classify themselves as "in-betweeners" rather than artists, and we can find this tendency in Ryoji Ikeda's work, "Radar," which converts visual mathematics and information into certain natural phenomena. Through an immersive experience and subtle methodology, the artist formulates a conjunctive gap between creative space and nature through visual spectacle and transmits this gap through sound and environment.
By means of exhibition, "COSMOS" conducts a discourse on the overall correspondence between the individual and space, resources, nature and the self. In particular, encounters between individuals within the space have the potential bind or exclude the individual from the epistemic world. This is perhaps why we require an exhibition with multiple levels of interpretation when discussing the eternal topics of "existence" and "co-existence." Artists are not only able to share, project and meet with the audience through their works; they are also able to convey a spiritual, mental and physical experience to the audience. Humanity is inseparable from the real world and possesses an infinite imagination when it comes to possible worlds. Though we only rarely transcend the real world, this eternal moment of enlightenment may well serve as exercise for the body and mind.
About the exhibition
Dates: Nov 22, 2014 – Apr 19, 2015
Opening: Nov 21, 2014, 15:00, Friday
Venue: Shanghai 21st Century Minsheng Art Museum
Curator: Li Zhenhua
Artists: Bestué & Marc Vives David, Michael Bevilacqua, Bignia Wehrli & Peter Andreas, Bitnik Group, Chen Juli, Cheng Ran, Chim↑Pom Group, Com&Com, Complaints Choir Group, Duan Jianyu, Fang Lijun, Harun Farocki, Harald Fernagu, Fu Xiaotong, Niklas Goldbach, Guo Xi, Hu Weiyi, Hu Jieming, Huang Morgan, Ryoji Ikeda, Khaled Jarrar, Jiang Hongqing, Alexandre Joly, Kang Haitao, Li Ming, Li Xiaofei, Liao Wenfeng, Lin Yilin, Liu Guangyun, Liu Xinyi, Lv Shengzhong, Ma Wen, Ma Ke, Pang Maokun, David Salle, Shen Ruijun, Roman Signer, Berndnaut Smilde, Song Kun, Song Dong, Sissel Tolaas, Trouvé Tatiana, Wang Chuan, Wang Guangle, Wu Guanzhong, Wu Jianan, Xu Wenkai, Xu Zhen, Xu Qu, Yan Lei, Yang Zhenzhong, Yang Feiyun, Yang Jiecang, Yang Fudong, Zeng Fanzhi, Zeng Lingxiang, Zheng Guogu, Zhou Wenzhong, Zhou Tiehai, Zhou Xiaohu, Zhu Jinshi
Courtesy of the artists and Shanghai 21st Century Minsheng Art Museum.
Related posts: