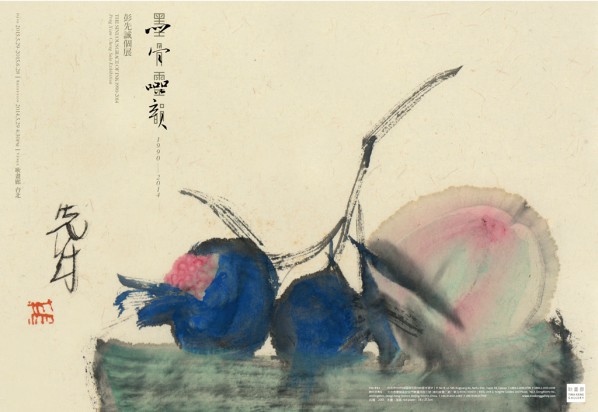 On May 29, 2015, Tina Keng Gallery is about to present "The Sinuous Grace of Ink 1990-2014 – Peng Xiancheng Solo Exhibition". It is the first time Peng Xiancheng's solo exhibition is held in Taiwan. Peng specializes in "boneless" brushwork, with an elegant, simple and unadorned style. The exhibition will present Chinese painting and calligraphy created by Peng Xiancheng from 1990 to 2014, so that the audience can see the classic works created by the artist with great concentration after experiencing years of immersion in the world of Chinese painting and calligraphy.
The artist had an ardent love for painting from his early years, inspired by Xu Beihong's "Horses Figure", he often copied them and self studied; Peng travelled to Dunhuang, Xinjiang when he was 40 years old, the images of the figures of the mural paintings heavily shocked the artist, so he combined the dignified and concise quality of mural painting in his work. For the artist, before reaching 35, the painting was spontaneous and impulsive, driven by the creative desire, while he changed to focus on the development of the egotistical artistic style when he was nearly forty years old. He seriously and persistently paints, rather than being greedy and jealous, he gradually reaches transformation. In recent years, starting from the "detailed" and the "distant", he discovers a variety of expressions in ink and wash on paper, and strives to pursue the ancient and distant lasting appeal of the boneless style.
Born in 1941, Peng Xiancheng is a native of Chengdu, Sichuan province. Peng Xiancheng is rated as a national first-class artist, an artist of Sichuan Poetry, Calligraphy and Painting Institute, a member of the China Artists Association, the State-Council Allowance Obtained Expert, Director of the Institute of Traditional Chinese Painting, a researcher at the China National Academy of Painting. His paintings are collected by many art institutions, such as the National Art Museum of China, Art Museum of Cornell University in the United States, Art Museum of Beijing Fine Art Academy, Sichuan Provincial Museum, Zhejiang Museum, the Shenzhen Art Museum and China National Academy of Painting, as well as private collectors including HRH Prince Charles, Professor Jerome Silbergeld from Princeton University, Professor Wan Qingli, from the University of Hong Kong, etc.
The exhibition will continue to June 28.
Courtesy of the artist and Tina Keng Gallery, translated by Chen Peihua and edited by Sue/CAFA ART INFO
Related posts: