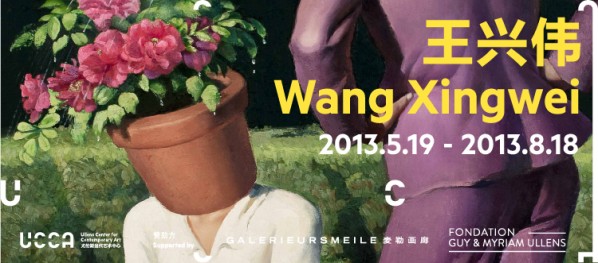 The Ullens Center for Contemporary Art is pleased to present Wang Xingwei, a mid-career survey of the leading Chinese painter from May 19 through to August 18. The exhibition will feature a grouping of paintings which highlight Wang's career from 1993 to the present, illustrating both the depth of his painterly talent and the breadth of his explorations over the past two decades. Organized by UCCA Director Philip Tinari in close collaboration with the artist, the exhibition will span the entirety of the UCCA's iconic Great Hall, the first time this space has ever been given over to a solo retrospective devoted strictly to painting. This is Wang Xingwei's first major institutional exhibition, and the accompanying catalogue is his most comprehensive monograph to date.
One of the original artists to enter the collection of the Fondation Guy & MyriamUllens, Wang worked last year on the final episode in UCCA's "Curated By…" series, producing an exhibition of seven young painters whose work explored similar themes to his own. Wang also has a painting on view in the concurrent exhibition "DUCHAMP and/or/in CHINA," which positions one of Wang's artistic heroes in relation to the Chinese scene.
In bringing together Wang's key achievements of the first two decades of his career, this exhibition will contribute significantly to the reassessment and elevation of a key figure in contemporary Chinese art, who through the complexity of his vision proves the depth and richness of the tradition to which he belongs.
"I see the artist as a postman, delivering letters. He should not be overly curious about what is inside the envelopes."
Born in an industrial city in northeastern China's Liaoning Province to an ordinary family, Wang Xingwei is an unlikely hero of the Chinese avant-garde. His early training in figurative painting at Shenyang Normal University, a provincial teachers' college, left him alone and isolated in his native city. Growing up amidst the '85 New Wave period, a time when Chinese contemporary art was embracing the foreign and conceptual, Wang was subject to a pedagogy that had not been revised according to these trends. But rather than eschew the formal models offered him by the system, Wang has maintained a critical dialogue with his own history by using the techniques he was trained in to interrogate their own logic. His works thus ask the key question: to what other ends can the apparatus of formerly propagandistic painting be put?
In the two decades of his mature output, Wang Xingwei has created an artistic universe all of his own, where references collide, characters recur, and styles proliferate, articulated in a deliciously skilful range of styles. While still working in Shenyang and Haicheng in Liaoning province, Wang was arguably "discovered" by the late Dutch curator Hans van Dijk in the mid-1990s and quickly fell into the Beijing circle around van Dijk, Ai Weiwei, and their experimental gallery China Art Archives and Warehouse. Wang's early works contain some of the most astute dialogues with Western art history and critiques of the fraught situation of Chinese artists ever produced in China, though he quickly tired of this type of referentiality, which has since become a major trend among the younger generation. In the early and mid-2000s, during an extended sojourn in Shanghai, he developed a distinct world of characters and styles, and a painting based on conscious variation and repetition among these. Nurses, golfers, airline stewardesses, penguins, pandas, old ladies, and cartoon lovers appear and disappear, flickering through Wang's painterly consciousness, hiding for years at a time, and reappearing undeterred. Like John Currin or George Condo, Wang Xingwei is deeply proficient in numerous painting styles, borrowing entire regimens of technique as if appropriating readymades. Wang Xingwei has been actively reluctant to narrate his own work. Having produced only two catalogues to date, both of which consciously exclude critical commentary, he proposes to let his paintings speak for themselves.
Wang Xingwei's work has been collected by major private and institutional players including UliSigg, Guy and MyriamUllens, Sammlung Goetz, Lionel Ringier, Cristiane Leister, QiaoZhibing, the Minsheng Art Museum, and the Rubell Family Collection. Selected group and solo shows include: Biennale d'art Contemporain de Lyon (1997); the 1st Guangzhou Triennial, Guangdong Museum of Art, Guangzhou (2002); Shanghai Biennale (2006); Large Rowboat, GalerieUrsMeile, Beijing (2007); Thirty Years of Chinese Contemporary Art 1979-2009, Minsheng Art Museum, Shanghai (2010); and The State of Things, Brussels/Beijing, at the National Art Museum of China, Beijing (2010), curated by Fan Di'an, Ai Weiwei, Luc Tuymans and Philippe Pirotte.
Courtesy of the artist and UCCA, for further information please visit Ullens Center for Contemporary Art.
Related posts: