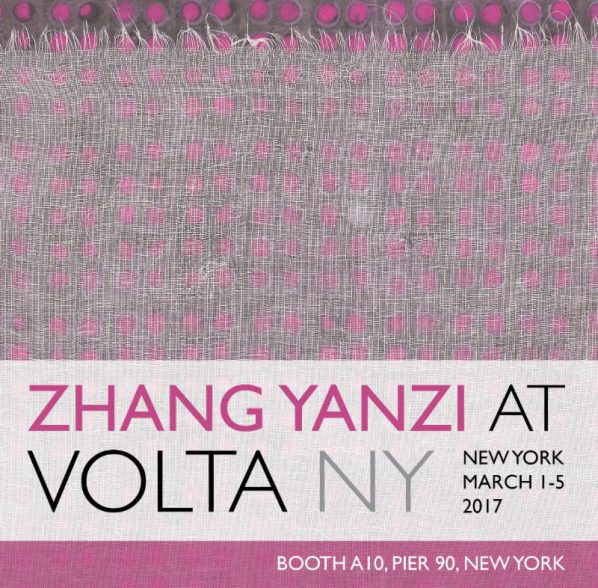 VOLTA NY is the invitational fair of solo artist projects and is the American incarnation of the original Basel VOLTA show, which was founded in 2005 by three art dealers as a fair "by galleries, for galleries". VOLTA NY celebrates ten years of solo focus in its decade edition in New York City, returning to PIER 90 from March 1 – 5, 2017, concurrent with Armory Arts Week. By spotlighting artists through primarily solo projects, VOLTA NY refocuses the art fair experience back to its most fundamental point: the artists and their works. A beacon for creative discovery during Armory Arts Week, VOLTA NY is likewise aligned with some of the best and boldest local cuisine and design collaborators in the city.
Galerie Ora-Ora is Volta NY's only Hong Kong Gallery
2017 marks Volta NY's celebration of its decade edition as a solo-focused international contemporary art fair. 2017 also marks 20 years since Hong Kong's handover from the UK to China. Galerie Ora-Ora is delighted to be participating in Volta NY as the sole Hong Kong gallery, and representing the fair's only Chinese artist, Beijing-based Zhang Yanzi.
In this time of uncertainty, where international relationships are being tested and re-imagined, Galerie Ora-Ora believes that the time is apposite to consider their shared energies and frailties. Galerie Ora-Ora's booth will be interpreting their universal essence through a Chinese lens.
Zhang Yanzi is Volta NY 2017's only Chinese artist
Zhang Yanzi's fascination with medicine began at an early age, growing up in a house where her father was a veterinary surgeon; her childhood games including creating her own karaoke sessions out of her father's stethoscope. From a childhood surrounded by medical tools, Zhang Yanzi eventually became an artist who, in the words of renowned art critic Barbara Pollack, "elevates the most mundane details of treatment by transforming them into works of art."
Offering a contemporary aesthetic presented through sculpture, gauze, and China's heritage of ink on xuan paper, the artist merges classical technical fluency with a unique contemporary vision which has met with acclaim by her peers at Beijing's Central Academy of Fine Arts. Visitors to China may be familiar with Zhang Yanzi's work from the National Art Museum of China, the Jiangsu Provincial Art Museum and the Central Academy of Fine Arts Art Museum among others. Volta NY 2017 will mark the artist's first interaction with New York City.
Classically trained in the meticulous principles of ink, Beijing-based artist Zhang Yanzi's art has taken a radical and surprising turn. Zhang Yanzi's two-month show last year at Hong Kong's Museum of Medical Sciences ("HKMMS") marked a decisive breakthrough for the artist. At Volta NY, Ora-Ora will be presenting several pieces from the HKMMS show including Scar, about which Barbara Pollack noted "she has… broken decisively from the strictures of ink painting, moving into more abstract forms that are multidimensional and far more experimental." They invite visitors to revel in the experimental collaboration of art and science: in the Medi-Chips series, Zhang even makes use of common place aluminium blister packs and gauze bandages, joyfully establishing "a connection between spiritual and physical sensations."
An entirely original resolution of conflicting outlooks and approaches to the body
The artist's interrogation of medical themes through an artistic lens is apposite for today's intellectual climate. Increasingly, the relationship between medical science and art is being probed in what is termed "medical humanities." According to The Oxford Research Centre in the Humanities, medical humanities is a richly diverse field of scholarship combining influences from humanities, social sciences and the arts. Exploration in this field facilitates a dialogue between arts and science both on an intellectual and emotional level. It broadens the perspective of medical practitioners, patients and their families or of people who simply wish for a holistic understanding of medical science.
Zhang Yanzi's art embodies the spirit of medical humanities, and also represents the dualism of eastern and western medical enquiry. She combines, according to Barbara Pollack "details of western medicine into artworks inspired by Asian artistic traditions, coming up with an entirely original resolution of conflicting outlooks and approaches to the body."
A subtle balance between art and healing
However, Zhang Yanzi's ultimate commentary lies beyond the combination of specific academic disciplines, and instead highlights universal themes and questions: what is the role of the individual in today's technological society? How do we maintain individuality and balance amid today's anxiety-inducing collision of competing priorities? The establishment of human commonalities lays the groundwork for universal healing.
The Chinese character "本" denotes a sense of our origins and essence, the inception of the forces which make us human and which form our energies, communities and civilizations. Zhang Yanzi evinces both a distinctly Chinese approach to considering our humanity, and a recognition that our origins and basic needs are common to humans globally. The acknowledgement of this common heritage is a starting point for the journey of healing which the display will bring.
The booth will provide a form of mental refreshment for the visitor. Bei Dao, the Chinese poet of solitude, described Zhang Yanzi's works as representing "a subtle balance between art and healing" – viewers of the show will be faced with the challenge of separating the two.
Zhang Yanzi will be available in New York for interview on request.
How to Find Galerie Ora-Ora at Volta NY 2017
The co-ordinates of Galerie Ora-Ora at Volta NY 2017 are as follows:
Venue: BOOTH A10
Address: PIER 90, West 50th Street & 12th Avenue New York City, NY 10036
PREVIEW DAY: Wednesday, March 1
Guest of Honour / Press Preview – 5pm to 7pm
VIP Preview / Vernissage – 7pm to 9pm
GENERAL OPENING HOURS
Thursday, March 2 – 12pm to 8pm
Friday, March 3 – 12pm to 8pm
Saturday, March 4 – 12pm to 8pm
Sunday, March 5 – 12pm to 5pm
Courtesy of the the artist and Galerie Ora-Ora, for further information please visit www.ora-ora.com.
Related posts: