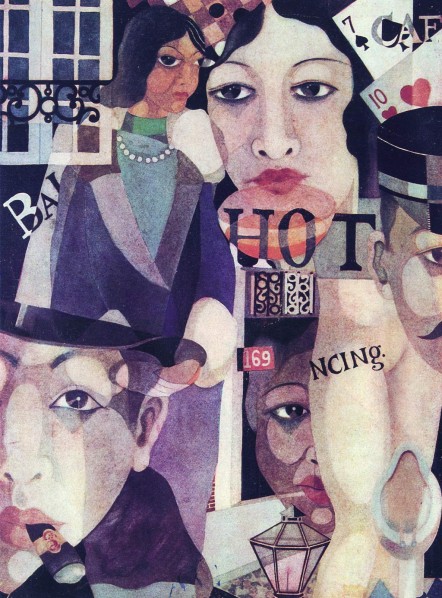 Entitled "The Song of Jue Lan", a major retrospective exhibition showcases 155 pieces of Pang Xunqin's work was unveiled at Zhejiang Art Museum on 7 June, joining art objects and documentation while using an academic, classificatory approach toward understanding Pang and the times he lived in. Among these works are Pang's paintings of the Miao people, and the works display deep and profound vitality transforming into a simple and solemn energy. Pang visited eighty different villages in the Guizhou countryside to gain firsthand visual material in order to better portray Miao life. This direct field research confirms Pang's unique interest in tradition. He did not pursue the literati painting tradition, but rather a continuation of the five thousand-year-old tradition of inspired folk creation by nameless craftsmen.
The History of Jue Lan Club

By Pang Xunqin
Since the Tai Meng Painting Association was dissolved, I has been living in Shanghai for several years. It saddens me to watch the decedance of Chinses art sprite and falling Chinese culture. Firstly, strive to self-improvement; secondly, concentrate our strength to contribute to the world. It was the reason why we established Jue Lan Club.
In the summer of 1920, Ni Yide came to Shanghai from Wuchang. Suprisingly, Ni also had the intention to ognize a painting club when I talked to him. So we sketched out the relutions and were engaged in Membership recruitment.
In september 23th this year, we had our first conference in Mei Yuan Restaurant. Chen Chengbo, Zhou Duo, Zeng Zhiliang, Ni Yide and five others attended the meeting. We named it Jue Lan Club and planed to hold exhibition in Shanghai on January 1st, 1932. However, due to Japan's occupation of north-east China, we were confusing and cash-strapped, our paln was not achieved. In spite of this, the increasing members made us hold the second conference in January 6th, Liang Baibo, Duan Pingyou, Chen Chengbo, Yang Taiyang, Yang Qiuren, Zeng Zhiliang, Zhou Mi, Deng Yunti, Zhouduo, Wang Jiyuan, Ni Yide and twevel others. Major items of the meeting were: firstly, modify the general relutions; secondly, the exhibition metioned in the first meeting will be held in the meddle of April; thirdly, Pang Xunqin, Wang Jiyuan and Ni Yide were elected to be directors. Japanese troops invaded Shanghai on January 28th, so the exhibition that held in April failed to come true. We held the third conference in April and decided to put off the exhibition until middle October. This is the history of Jue lan Club.
The Declaration of Jue Lan Club
The atmosphere surrounding us is so quiet that triviality and vulgar embraced us. Countless morons are wriggling and countless shallows are clamour…
Where is our talent and glorious history created from the ancient? The only thing that left to the whole art circle is decadence and invalidity.
We should not be satisfied with such compromised environment.
We should not let it wait for death alone.
Come on! Let's creat the world , which is staggered by colours, lines and forms with our crazy enthusiasm and sound reason!
We admit that painting is not imitating the nature, nor repeating the primness, and we should express our spirit of pungent barely with our lives.
We hold that art is not the slave of advertisers, nor the expression of literature, and we should create our formative and colourful world freely and comprehensively.
We should use new techniques instead of the old forms, old colours and ordinary and vulgar ones we hate to express the spirit of the new era.
Since the 20th century, new scenes appeared in European Art Circle: the shout of Fauvism, the deformation of Cubism, the vilence of Dadaism and the expecation of Sarrealism…
It is necessary for Chinese Art Circle to emerge a new atmosphere, too.
Come on! Let's creat the world , which is staggered by colours, lines and forms with our crazy enthusiasm and sound reason.
    Publishied in Art, 1931, vol.1, No.5
Courtesy Zhejiang Art Museum, for further information please visit www.zjam.org.cn.
Related posts: