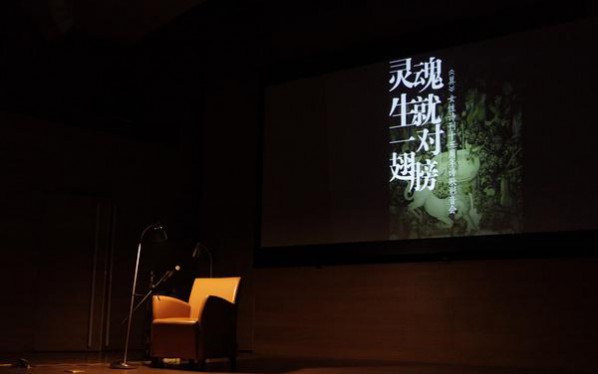 Planned by Zhai Yongming and Zhou Zan, "The Soul Has a Pair of Wings" a night of Poetry Recital 2013 (a video representing the gathering to celebrate the 15th Anniversary of "Wings" feminine poetry periodical) was held in the Auditorium in CAFA Art Museum at 19:30 on November 22, 2013. It was jointly organized by CAFA Art Museum, Wings Feminine Publishing Studio, Beijing Contemporary Art Foundation. Wings Feminine Publishing Studio told all the spectators to write a sentence on a sheet of paper before the start of the poetry recital, it was supposed to be a verse or feeling of the day, or some words on the theme of "flying".
"Wings"(Chinese: 翼,Yi) feminine poetry periodical was founded by poets Zhou Zan and Zhai Yongming in Beijing in 1998, is committed to promoting contemporary women poets and their works. "Wings" has published 7 volumes of poetry periodicals and 3 related brochures, 7 volumes of electronic poetry periodicals, meanwhile building a website and on-line forums to promote nearly one hundred domestic and foreign female poets, which is the solo independent private female poetry periodical in China. It is at the 15th anniversary of "Wings" in 2013, a poetry gathering to commemorate the anniversary that was held in CAFA Art Museum, that readers of "Wings" and poetry lovers got together again.
In the soundtrack played by the Walnut Room band at the site, more than twenty poets including Lv Yue, Wu Ang, Tong Wei, Xiao Xiao, Cheng Xiaobei, Xu Zhenmin, Chen Yu, An Qi, Liu Liduo, Huang Qian, Chen Si'an, Zhao Yuan, Cheng Ying, Zhang Shuang, Wang Haiwei, Li Junlan, Shu Cai, Lan Lan, Xiao An, Zhang Er, Zhou Yan, A Mang, Lai Er, etc., successively recited their poems at the site or by video. It was surprising that artist Xiang Jing debuted and recited "The Law of City" a poem by Zhai Yongming, finally Zhai Yongming, Zhou Zan and Xi Chuan recited "Reading Old letters, Remind Me of a Young Girl", "Love", "Winter Snow" and "Cherry".
In the last section of the interaction with the audience, poets present at the gathering such as He Xiaozhu, Zhou Yaping, together with the representatives of the audience picked out some of the phrases written by the audience, and the composed poems. Through a variety of forms, such as live recitation of poems, multimedia readings, live band improvising music, a cooperation with modern dance, improvising interactions with the audience, the poetry recital presented the audience with a unique recital.
Journalist: Ye Yuanfeng, translated by Chen Peihua and edited by Sue/CAFA ART INFO.
Related posts: