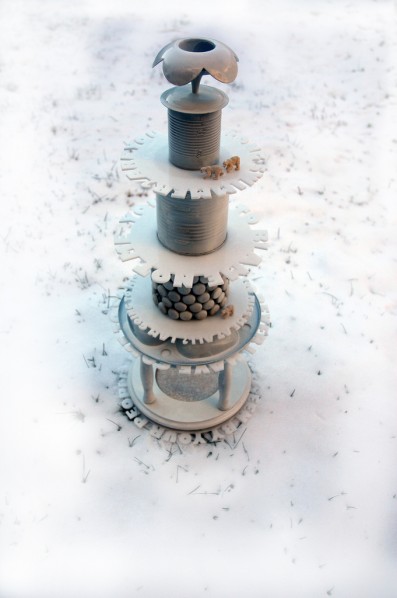 "New Media Art" began during the 1960s as a response to the artistic demands of Conceptual Art, and was further influenced by early period of Dadaism. With advances in scientific and industrial technologies from the 1970s, the avant-garde, experimental nature of New Media Art led it to gradually incorporate various elements including sound, light, video, and mechanical power, transformed technological invention into artistic intervention. From the 1980s, art returned from the pure aesthetic exploration characteristic of modernism to an approach which focused more on observing and echoing contemporary society and culture. New Media Art also responded to these developments and entered into a new era of a triangular relationship between art, technology and culture.
The Innovationists, as a New Media Art exhibition in the 21st century, attempts to transform the space of the Museum of Contemporary Art, Taipei into a multifaceted experiential journey transcending mere sight through the dialogues and artworks created by artists from United States, Britain, Japan, Hong Kong and Taiwan. This exhibition gathered 18 pieces created by 9 different units. All are in some sense of mechanical art which unite concepts of technology, design and creativity. These pieces also generate multiple observations, readings and interpretations: interactive wearable device casts light on the culture of Otaku/ Geeks/ Computer nerds; gentle appeals for environmental concerns and protection from a series of cold kinetic installations; creative works and ideas inspired from our daily lives/phenomena/ objects/ environment, which created the dialogue among art, social lives and contemporary culture; kinetic sculptures which applied wind power and connected with the principles of animation; huge paper sculptures which consisted of the concept of archeology; or through small interactive objects to reflect contemporary media phenomena, and so on. The Innovationists, like alchemists, inspired from daily lives and surroundings, together to create a spectacular journey for all of us.
New Media artists are the forward-looking observers of our society, as well as artistic rebels. They apply technology and science to their works and challenge existing concepts and values which intrinsic to humanity. Thus, they re-examine the new position art holds in the modern society, and the ever-changing relationship between people and art; these are what The Innovationists attempts to inspire audience to understand, investigate and explore.
About the exhibition
Date: 2013/02/02-04/14
Venue: MOCA Taipei, 1F
Curator: Joel Kwong
Artists: Scott Hessels, XEX GRP/Chris Honhim Cheung, Samson Young, dimension+, Eric Siu, COGOO × SEMITRANSPARENT DESIGN × TBWA\HAKUHODO, Ryota Kuwakubo, circumstance, Tiffany Holmes.
Courtesy of the artists and Museum of Contemporary Art, Taipei, for further information please visit www.mocataipei.org.tw.
Related posts: