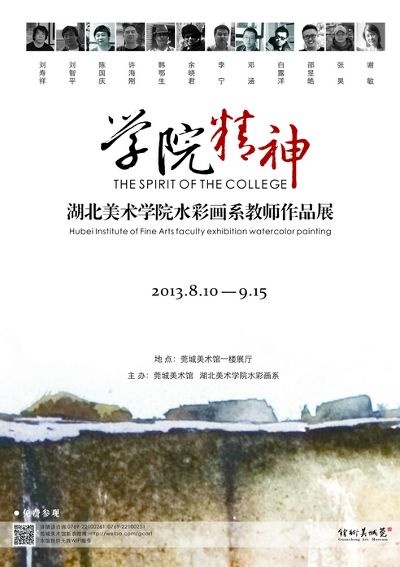 On the morning of August 10, 2013, "The Spirit of the Academy – Exhibition of Teachers from the Faculty of Watercolor, Hubei Institute of Fine Arts Exhibition" was inaugurated in Guancheng Art Museum, featuring 77 works by 12 teachers from the Faculty of Watercolor, Hubei Institute of Fine Arts, the exhibition continues until September 15.
Hubei Institute of Fine Arts is the highest skilled institute of art in the central China district, time-honored and rich in inheritance, especially the Faculty of Watercolor. Hubei Institute of Fine Arts is the academy that initially opened up a professional watercolor course which is a select course from the national high educational courses, led by a group of national influential middle age and young watercolor artists represented by Liu Shouxiang, Director of the Faculty, forming an art feature of unique regional character with the creation of watercolors and playing a decisive role in the field of "academy-school" watercolor. In order to build and expand the brand and influence of the "watercolor season", to further explore the states of development of various "schools of academy" across the nation, orchestrated by Guancheng Art museum, it comprehensively showcases the high-quality achievement of watercolor creation and professional teaching of the institute. During the exhibition, it organizes a series of colorful art exchange activities, and at the opening, the audience was guided to visit the exhibition by some artists, after that, five teachers including Liu Shouxiang sketched watercolor paintings of still life, figure, etc., thereby, the audience could learn the basics of watercolor painting, while communicated face to face with the well-known watercolor painters and feel the unique charm of watercolor art.
It is worth mentioning that, in the field of investments and collections, compared with the present "high price" of Chinese painting and oil painting, watercolor is still located in a "price depression", with the hot rise in investments and collections, it's foreseeable that the price of the boutiques of watercolor will grow in future. The exhibition in Guancheng Art Museum offers a rare opportunity for the lovers of investments and collecting in Dongguan.
About the exhibition
Duration: August 10 – September 15, 2013
Venue: Dongguan Guancheng Art Mueseum
Translated by Chen Peihua and edited by Sue/CAFA ART INFO
Related posts: