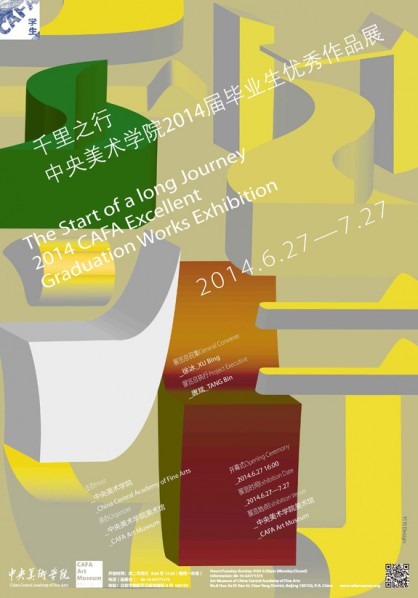 The phrase "the start of a long journey" originated from the classical text Dao De Jing by the ancient Chinese philosopher Lao-tzu:
"A thick tree trunk that eludes one's embrace sprouts from tiny stems;
A nine-storied tower is built from numerous baskets of mud;
A thousand-mile long journey starts with each and every step."
The gist is that all brilliance starts from minute origins. The logic to any growth is determined by the quality of its genesis and the strength and direction of its foundation. This is the core value of education.
"The Start of a Long Journey – 2014 CAFA Excellent Graduation Works Exhibition" is the sixth round of "The Start of a Long Journey", which has attempted to boldly breakthrough the traditional inner exhibition mode of an academy, after six years of development, it has been successfully extended to the whole country, and becomes an important brand of academic exhibition of CAFA.
As a major exhibition of the year, the exhibition features the selected works of graduates of the master or bachelor's degree from the School of Chinese Painting, School of Plastic, School of Design, School of Architecture, School of Urban Design and School of Humanities, through a strict academic assessment and careful selection. All participating students are highly innovative and curiosity, not only the graduates of CAFA, but also the hope for the future development in Chinese art circles. Through these works we can clearly see the current standards of teaching of CAFA, as well as the achievement of the stage.
About the exhibition
Press conference: June 27, 2:00pm
Opening: June 27, 4:00pm
Duration: June 27 through to July 27, 2014
Venue: CAFA Art Museum
Courtesy of the CAFA Art Museum, for further information please visit museum.cafa.com.cn.
Related posts: