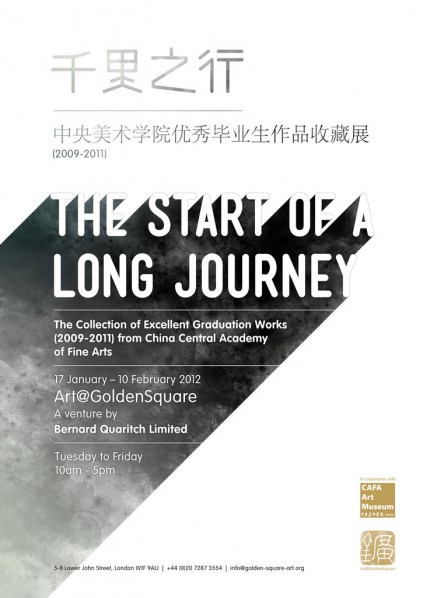 Endowed with its implied meaning from the Chinese proverb–"A thousand-mile long journey starts with each and every step," The Start of a Long Journey belongs to the exhibition series organized by the Central Academy of Fine Arts in China. It has been held for three years in Beijing, Guangzhou, Tianjin and other cities, proving to be the most important platform for the promotion of young artists from the Central Academy of Fine Arts from all art schools in China. On the occasion of the beginning of 2012, The Start of a Long Journey comes to London, an internationally renowned cultural centre. This is going to be a significant event which makes a constructive breakthrough as its intention is to recommend the emerging young artists from China to international cultural and artistic circles.
The Start of a Long Journey: The Collection of Excellent Graduation Works (2009-2011) from CAFA was ceremoniously inaugurated at 6 o'clock on January 16th, 2012 at the art space of Art @ Golden Square in London. More than 200 artists and curators attended the opening ceremony including Mr. Chris Wainright, Head of the Colleges of Camberwell, Chelsea and Wimbledon, the University of the Arts London; Mr. George Blacklock, Head of Chelsea College of Art & Design; Mr. Mark Dunhill, Dean of Fine Art at Central Saint Martins College of Art and Design; Mr. Zhang Hongxing, Senior Curator in the V&A's Asian Department and Dean of Department of Painting at Slade School of Fine Art; Mr. Sun Shuyun from the British Institute of Strategic Studies. Mr. Wang Huangsheng, Curator of the CAFA Art Museum and Mr. John Koh, Manager of Art @ Golden Square who jointly chaired the opening activities which received high acclaim.
This exhibition brings together 29 pieces (series) of works by recent graduates originating from the Central Academy of Fine Arts in the last three years, all of which were selected and collected by the CAFA Art Museum. With a comprehensive review on the responsibilities and energy which the Central Academy of Fine Arts reflected in the process of cultivating and recommending young artists, it will be on display until February 10th, 2012. The works exhibited in London demonstrate how this new generation of Chinese artists experience this world, history and the reality through their own ways of expression. With diverse perspectives, ideas and forms of art among the paintings, sculptures, installations, videos and so on, they demonstrate the attitudes and approaches taken by the new generation of Chinese contemporary artists when confronting the traditions, contemporary art, local features and international cultures.
Related posts: