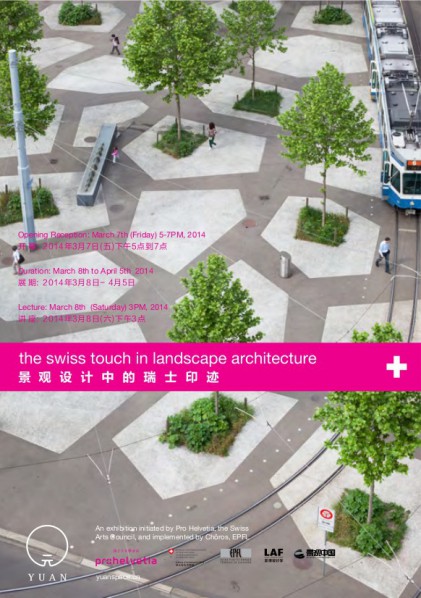 YUAN Space is pleased to present the exhibition The Swiss Touch in Landscape Architecture curated by the renowned architecture professor Michael Jakob. The exhibition intends to provide an insight in the extreme richness and variety of Swiss landscape architecture. During the twentieth century and beyond, Switzerland played an essential role in the evolution of landscape architecture. Leading projects by Swiss landscape architects can be found both in Switzerland and the rest of the world.
Throughout information panels and documentary films, the visitor gets the possibility to discover the origin of landscape architecture, the crucial function of national exhibitions, the most significant architecture offices as well as the fascinating work of the latest generation of landscape architects.
YUAN Space considers this exhibition as an educational event proposing an overview of the history and theory of landscape architecture in Switzerland. Especially in a city like Beijing, where urban planning and the ecological context is becoming more and more important, we think it as essential to accentuate the central role of landscape in urban planning, which is yet still largely unknown to the general public. A lecture on March 8th will provide visitors with the possibility to discuss with Guido Hager and Michael Jakob.
This exhibition is initiated by Pro Helvetia- The Swiss Arts Council and conceived by Laboratoire Chôros, ENAC, EPFL with additional support from the Embassy of Switzerland in China, Landscape Architecture Frontiers Magazine and Landscape.cn. the swiss touch in landscape architecture has been shown worldwide in France, Spain, Ireland, Switzerland and the United States.
About the exhibition
Opening: March 7th 5-7pm
Duration: March 8th to April 5th 2014, Tue-Sa 11am-5pm
Lecture: March 8th 3pm
Courtesy of the artist and Yuan Space, for further information please visit www.yuanspace.cn.
Related posts: