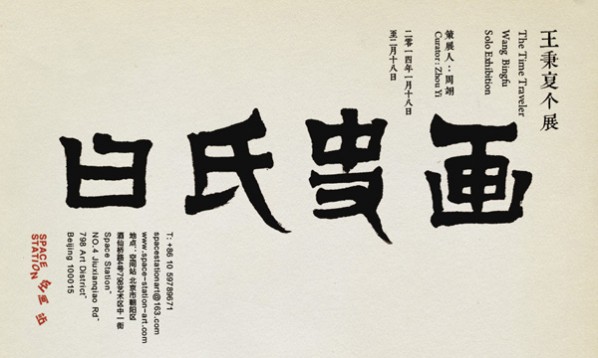 Foreword
By Zhou Yi
To me, it is personal practices, rather than traditional legacy, that I take faith in. For this reason, I could hardly discuss topics about art with Mr. Wang Bingfu. Nevertheless, I take a great interest in watching him painting. The traditional school does not need him, since he never shows any interest in the form and ritual of tradition. His paintings are rather out of place in exhibition of traditional ink paintings, since the most moving elements are drowned in the rhetoric. However, in the context of contemporary art, his paintings are precise, which reflects a man's attitude to the changing social landscape. Good thing that he let me exhibit him in a contemporary gallery, but the truth is because he does not fear being put into a different context. As Mr. Wang says himself, "it is a good time now, I can paint whatever I want".Therefore, for me, no matter how important the traditional form of his paintings previously used to be, it does not matter now. These paintings are about an attitude to live.
The paintings of Mr. Wang keep a distance from realities. Once in Wang's art studio, Fu Xiaodong was acutely aware of a certain essence of traveling, from his sketches of foreign landscapes and his series of historical narrative paintings. The narrative paintings are basically a travel through time: by copying, Wang learned the craft from the ancients to visualize ancient stories. The houses, attires, styles of artifacts, that appear in his paintings, are taken from many years of study on pottery figurines and excavates exhibited in museums. On one hand, the spiritual journey requires his lifelong accumulation and preparation, which quite resembles carloads of "luggage" during a relocation. On the other hand, the physical journey of sketching foreign landscape, however, requires nothing but an open mind to take in what he sees.
Mr. Wang paints so fast that his hand keeps up with the pace of speech. It is fascinating to watching him painting while narrating or lecturing. Images appear as he pronounces their names. When he paints he does not make a fuss about subject matter, everything can enter his field of vision. His painting is his voice. That is to say, he speaks through the images he paints. This voice of his is what sustains him through years of persecution un-wavering, free from temptation and fear. After the emergence of commercial art scene, he would stay away from various systems and movements, making contribution and comments in his way – with a brush not with words. In todays consumer culture, he has some interest in money but never greedy. He once said that, the prices of his paintings should be a hundredth of Qi Baishi's, and a hundred times of Fanzeng's. That price does not exist as we all know, so he'd be content with just enough to get by.
About the exhibition
Dates: January 18 – February 18, 2014
Venue: Space Station
Opening: January 18, 2014 Saturday 16:00
Artist: Wang Bingfu
Curator: Zhou Yi
Tel: 010-59789671
Add: No.4 Jiuxianqiao Rd, 798 Art District, Beijing
Courtesy of the artist and Space Station, for further information please visit www.space-station-art.com.
Related posts: