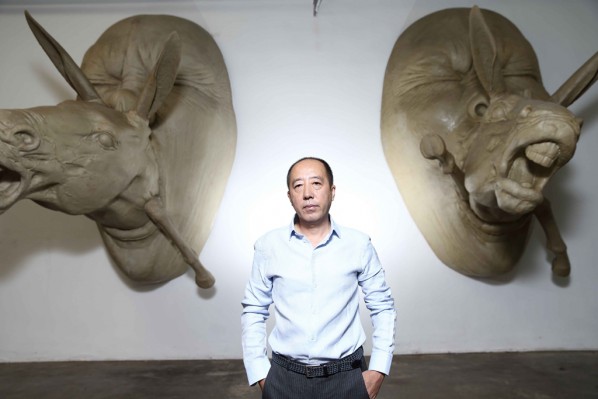 The United Art Museum in Wuhan is pleased to present the first major solo museum exhibition of artist Zhang Dali in China. Spanning the artist's influential thirty-year career, the solo exhibition "From Reality to Extreme Reality: The Road of Zhang Dali", is curated by art critic Lu Hong, and will be on view at the United Museum in Wuhan from September 18, 2015 to March 18, 2016.
Highlighting each period of Zhang Dali's most significant bodies of work, the exhibition will include early ink painting, graffiti, photography, paintings on pvc, records of performances, archival material and large-scale sculptural installations. In total, the exhibition will comprise more than 300 works from the 1970's up to the present. Occupied all of the museum's exhibition spaces, the survey exhibition is laid out with the aim of slowly guiding audiences chronologically, as contemplative observers, through each period in the artist's practice.
Zhang Dali (b. 1963 Harbin) graduated in 1987 from Beijing's Central Academy of Art and Design (now Tsinghua Academy of Art and Design), and currently lives and works in Beijing. In the early 1990's, he gained widespread notoriety from his street art graffiti works, spray-painting his tag in areas slated for demolition, reacting to Beijing city planners' aim of radically reducing old Hutong neighborhoods of traditional one-story courtyard residential housing. In so doing, he was among the first group of artists in China to focus on drastic urban changes, via demolition and displacement, which then became one of the central preoccupations of his artistic practice.
Zhang Dali has consistently focused on social reality and the human condition for city-dwellers; recording these every-day realities has been a mainstay motivating force and source of inspiration throughout his practice. Zhang Dali views daily life much like an urban anthropologist cum archivist; collecting historical research materials of ordinary lives, including documentary records and portraits, news footage, current affairs, and environmental studies, as they intertwine in shaping the vitality of our daily urban existence. Zhang Dali shares the core belief that artists and culture can uniquely influence our daily reality by shedding light on the problems of urban development and its impact on both collective and individual lives.
Occupying the museum's eight main galleries, and spanning the artist's career, the exhibition will be divided into sections: Section 1 shows Zhang Dali's early work, from 1977 to 1987, including sketches, drawings, water colors, tempera and oil paintings; Section 2 includes work from 1986 to 1995, mainly oil and ink paintings; Section 3 includes three major bodies of work: Dialogue and Demolition (1992-2006), One Hundred Chinese (1995-2010), and Chinese Offspring (2003-2010); Section 4 also includes three series of work: AK-47 2000-2010), Slogan (2007-2010), and Man and Beast 2007-2008); Section 5 presents the two series A Second History (2005-2010) and Visual Machine (2005-2010); Section 6 shows the two series Wind Horse Flag (2008) and World's Shadows (2008-2014); Section 7 shows the most recent series Square (2015); and, finally, Section 8 shows videos and documentary video footage of Zhang Dali's artistic practice and life experience.
In describing Zhang Dali's practice, curator Lu Hong notes that although the artist uses a variety of medium and focuses on different subjects, in fact he always maintains a consistent underlying logic: Steadfastly and rationally revealing the human condition for today's Mainland urbanites. From the vantage point of an urban scholar, Zhang Dali takes a step back from the every day in order to view contemporary city life in China from a humanistic and critical perspective, highlighting the individual alienation that is a natural by product of non-stop rapid change to one's living space. All that he critically observes and records as an artist comes out of his determination to reflect the daily reality of life in China. In this vein, Zhang Dali is a truly conceptual artist, imbued with a deep sense of his own responsibility to art history, by critically capturing the meaning of present day reality in China.
"From Reality to Extreme Reality – The Road of Zhang Dali" will be accompanied by a fully illustrated catalogue featuring most important articles by academics and scholars. Throughout the exhibition period, Wuhan United Museum will organize a series of educational events to accompany Zhang Dali's solo exhibition. These will be open to the public with detailed information and schedules posted regularly on the museum's website.
Courtesy of the artist and Wuhan United Museum.
Related posts: