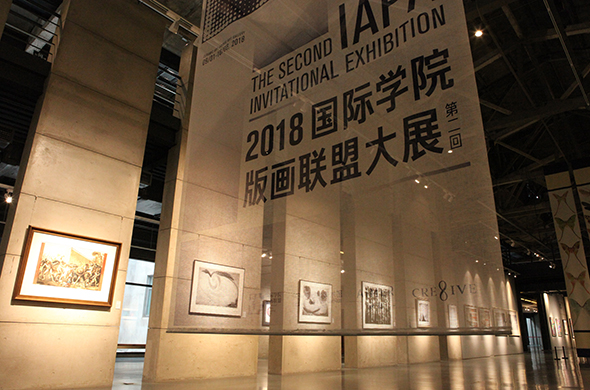 On 23 September 2018, "The Second IAPA Invitational Exhibition" was unveiled at Taoxichuan Museum of Art in Jingdezhen. This exhibition is co-organized by the Central Academy of Fine Arts, Jingdezhen Ceramic Culture Tourism Group, the Printmaking Art Committee of Chinese Artists Association, International Academic Printmaking Alliance(abbr. IAPA). The International Academic Printmaking Alliance selected 223 artworks featuring 120 artists from 26 countries including Australia, Ireland, Argentina, Bulgaria, Poland, Belgium, Russia, South Korea, Canada, USA, South Africa, Nicaragua, Japan, Serbia, Spain, India, Israel, Italy, France, UK, Brazil, Chile, Mexico, Puerto Rico, Sweden and China. Compared with the first IAPA exhibition, this exhibition starts from presenting a "panorama," then further focuses on discussions and a confirmation of the printmaking concepts as well as offering a comprehensive view of various cultural backgrounds. The exhibition intends to present the changes that occur in international printmaking research and creation, promoting an exchange of diversified experience in the traditional adherence and emergence of a contemporary spirit and further arousing explorations in printmaking phenomena and academic ideas.
"The International Academic Printmaking Alliance" initiated by the Central Academy of Fine Arts was formally established in Beijing in 2016. With the success of "The First Invitational Exhibition of International Academic Printmaking Alliance" in the Imperial Ancestral Temple, over 700 prints from 28 countries were brought together to be displayed at the Royal Temple of Ming Dynasty which was unprecedented in content and form. "The International Academic Printmaking Alliance" is a professional platform for international printmaking artists to share knowledge, practice and an opportunity to interact, communicate and discuss academic research. IAPA main responsibilities include: 1. Introduction to the philosophies and historical experiences of printmaking in various countries. 2. Provision of solutions to the problems in accepting printmaking has encountered in various countries. 3. Research and exploration of the irreplaceable nature of printmaking in the context of global contemporary culture. 4. Provision of academic positioning for the concept, form and circulation of printmaking while developing a corresponding basic framework. This exhibition was chosen to be presented in Jingdezhen, Jiangxi province, China as it is not just a simple geographical migration, it was decided as it is a macroscopic consideration of the cultural identity of printmaking. Jingdezhen is an ancient ceramic capital of the world, which is also an internationally acclaimed center of contemporary ceramic research and development. Like ceramic art, printmaking is confronted with similar issues as to how it inherits from traditions and transforms them in the contemporary context, that is, how to confirm its cultural identity while straightening its relationship with the epochal spirit.
History provides an opportunity for every printmaker here. Our decision made by the elite of the printmaking world today will influence the world, print creation, print exhibitions, printmaking education, and prints' history. That's because IAPA is like a collection of different print nations, like the United Nations in the printmaking world. Should we defend the traditional woodcut, intaglio, lithography, and silkscreen prints to refuse mono prints and digital prints, or keep our confusing and controversial present situation? Should we alleviate burdens on ourselves, provide more choices for the mediums of expression, enlarge spaces for creation and thinking and add varieties to the collection species? Relax the constraints generated by habits, prejudice, and benefits, I advocate to embrace the future. The "future" contains the inheritance and protection of traditional techniques and aesthetics which includes subsequent experiments and further exploration.
Wang Huaxiang
September 27, 2018
The two-day IAPA conference concluded on September 25, 2018. The conference is composed of two parts – keynote speeches and discussions. 16 guests gave their lectures, including Michael Kempson, Alicia Candiai Argentina, Peter Bosteels, Dimitrije Pecic, and Joseph Scheer. They talked about the development of printmaking in different countries, including Australia, Argentina, France, Belgium, USA, Serbia, and from different aspects, containing print creations, print exhibitions, print workshops, and printmaking education. The conference was hosted by Yin Shuangxi, a critic and Editorial Director of the CAFA Journal.
Since the 1960s, the criteria to define prints has been based on the three regulations of the proposal "How Can It Be Called An Original Print" in the 1960 International Modelling Fine Art Conference. Along with the appearance of new techniques, new material, and new technology, the edge of the printmakers' creation has been continuously expanded. Meanwhile, many urgent questions on the criteria of printmaking have been raised. Just like Wang Huaxiang, the president of IAPA said, "We need an authoritative international platform to achieve a common view. These questions should exist in the past as a mess or being pushed forward?" Besides the characters of the definition of traditional prints, such as "cut" and "print," "indirection" and "plurality," is there a larger space under the contemporary context to define prints?
Thus, Wang Huaxiang, the president of IAPA, gave advice on the voting policy and topics of the conference. Through negotiation, the conference applied a free discussion around the four topics "if digital prints can be involved in conventional exhibitions, the definition of mono prints, if original prints include those re-created based on original works, if photographic prints can be incorporated in print exhibitions." The result of the public discussion was voted on by a show of hands. The agreement took effect when more than half of the votes were received. This was a discussion on the international definition of the standards of printmaking.
Twenty guests, including Peter Bosteels, Paolo Laudisa, Aude De Kerros, Joseph Sheer, Stephen Lawlor, Yang Hongwei, Dominic Thorburn, Mark Bovey, Devraj Dakoji, Wang Chunli, David Arteagoitia Garcfa, Michael Kempson, Guo Jianwen, Zhou Jirong, Alicia Candiai Argentina, Patricia Villalobos, Nayda Collazo, Wang Huaxiang, stated their respective opinions around the discussion topics. They extracted opinions from their own creative experience or their respective historical experience carried forth by their own cultural identity.
For the questions of "digital prints" and "mono prints," Paolo Laudisa proposed that the presence of mono prints was as early as the 16th century. Moreover, Accademia Di Belle Arti Di Roma started to establish digital print courses in the 90s; Aude De Kerros from France believed that "techiniques are always tools for art;" Joseph Scheer had worked and taught printmaking using digital technology for more than 30 years. He stated that the most recent technology is a part of the creative gene of printmaking, but the debates on digital prints had existed during his thirty years' of teaching; Stephen Lawlor declared, "if do not embrace technology, we will be washed out." He pointed out that the reason why collectors were doubtful about digital prints was because the creators did not directly interact with the materials; Wang Chunli considered "printmaking as a way of thinking" and people should think about the questions in the context of history.
Dominic Thorburn insisted that the definition of printmaking lies in its constantly changing quality. In the very early days, printmaking was determined as a category of fine art which was always questioned. We should be an innovator of printmaking, but not a gatekeeper; David Arteagoitia Garcfa believed that people should not focus on the applied techniques, but should pay more attention to creative ideas and concepts. The process of creating prints might involve different concepts, "just like photography, it also uses digital media. I think it can be considered a form of printmaking. We have the responsibility to break a lot of fetters. Do not set limits to our printmaking creation. The limits expose the impediment of creative spirits; Michael Kempson from Australia argued that the different views on the above discussions might come from different countries' cultural backgrounds. Therefore, we need a common context. He mentioned that all the art academies he had visited actively accepted new technologies and new materials. Alicia Candiai Argentina viewed prints as an "all-rounder" at the football ground. History had proved that printmaking was accepted after a particular skill or invention, so nowadays we cannot ignore the development of digital media. We cannot separate printmaking from techniques. Through the angle of prints' definition, she said there are three procedures to make prints. The former two processes can be replaced by digital printers. The third one is the selected media. There are a lot of possibilities. If obeying the three procedures, it will be a print. It's the same as the three characters in Chinese–paint, cut, and print."
Mark Bovey suggested that when photography first took place in the 19th century, as a kind of new media, it had connections with printmaking. Now photography generates new relationships with printmaking. We can try to investigate definitions and differences, but the power from the artworks themselves is essential; Yang Hongwei further explained the reason for the problem happened in China, from eastern and western perspectives. He also mentioned his hope to start the discussion with the results from photography and digital prints into his teaching, to embrace both techniques.
Wang Huaxiang led the discussion onto the last stage. He said, "people use the techniques of silkscreen, digital, photography prints to massively copy original works and to fetch a high price. This has been a controversial phenomenon in China and stimulates a debate on whether duplicate prints are original prints or not." He expressed his own point of view, believing that these prints are similar to the duplicate ones in history, asserting that they are still prints, but need to be defined as commercial prints. Guests like Patricia Villalobos and Nayda Collazo all claimed that the standards to delineate a reproduced print as original or not should be based on its creative purpose. The prints for commercial objectives are not original prints."
After three hours of public discussion, the subject was approved unanimously by a show of hands. The committee reached a consensus of the four following points: 1. Digital prints can be incorporated into conventional exhibitions; 2. Mono prints are prints; 3. Reproduced prints can be defined as original prints; 4. Photographic prints can be included into print exhibitions. Guests signed the conclusion. This conference is the second international convention to discuss the standards of prints after the 1960s. Wang Huaxiang, the president of IAPA, said "our resolution today is a milestone. From the duplicate prints of the past, to the later prints cut and produced by printmakers, printmaking has become a method for artists to create. It has been controversial and arguable all the time. Indeed, this is an old problem, a problem that becomes no-longer a problem for printmakers, but actually it never disappears. From now on, all the species of printmaking can participate in significant print exhibitions, just like different nations, different races can enter museums and galleries respectably. They can compete for awards equally and involve in the circulation, market, and collection."
Courtesy of IAPA, edited by CAFA ART INFO
Related posts: