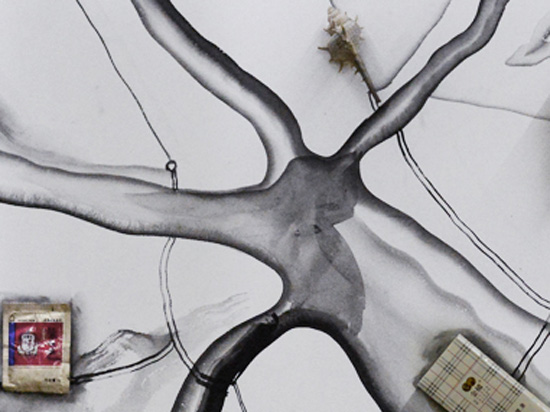 The detailed maps of leading Chinese artist and thinker Qiu Zhijie redefine our world in a close examination of its actual and conceptual territories. During his residency at Spring Workshop in May 2013, Zhijie re-imagines this terrain with expansive, large-scale maps made of ink and tape. Found objects and engraved spheres of glass, wood and steel are placed throughout, resulting in a landscape of new interrelationships. The maps' journey began in Rotterdam with Qiu's exhibition "Blueprints" (2012) at Witte de With Center for Contemporary Art which also featured the Map of Reactivation that served as the artistic statement of the 2012 Shanghai Biennale. The exhibition will be open to the public free of charge from May 23 to August 15, 2013. Exhibition times will be posted here once the show has opened.
Related Programs
Student Workshop, May 10/11, 2013
Qiu Zhijie will be holding a two-day student workshop in which Hong Kong-based art students will collaborate with the artist and contribute to the installation. Please email us to participate.
Artist Talk, 630pm, May 11, 2013 (Drinks, 6pm)
Qiu Zhijie will give a sneak peek of the installation at Spring and talk about his work-in-progress. Please click here to register.
Art Basel Wong Chuk Hang Art Night, 5-11pm, May 23, 2013
Guided tours will be offered during Art Basel and on weekends.
Family Day, June 2013
Spring welcomes families to visit on a special weekend day when we will have food, fun and games for the little ones.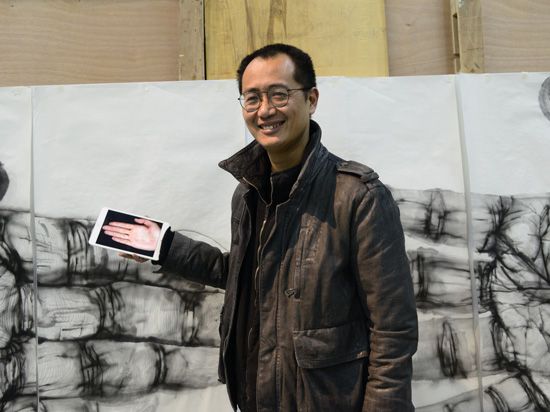 About the artist
Qiu Zhijie (b. 1969, Zhangzhou, China) lives and works in Beijing and Hangzhou, China. Qiu's diverse practice embraces sculpture, painting, printmaking, video, photography, and performance. His work, which frequently translates traditional techniques into conceptual forms, examines the intersection between political history and current social realities in China.
Qiu has had solo exhibitions at such institutions as Guangdong Museum of Art, Guangzhou, China (2010); Haus der Kulturen del Welt, Berlin (2010); Ullens Center for Contemporary Art, Beijing (2009); Zendai Museum of Modern Art, Shanghai (2008); Long March Space, Beijing (2007); Fundação Oriente, Macau, China (2000); and Gallery of the Central Academy of Fine Arts, Beijing (1999).
Group shows featuring Qiu's work include Community of Tastes: Chinese Contemporary Art Since 2000, Museu de arte contemporânea da universidade de São Paulo (2011); Photography from the New China, Getty Center, Los Angeles (2010–11); Shanghai Biennial (2010); Thirty Years of Chinese Contemporary Art, Minsheng Art Museum, Shanghai (2010); Contemplating the Void: Interventions in the Guggenheim Museum, Solomon R. Guggenheim Museum, New York (2010); Breaking Forecast: Eight Key Figures of China's New Generation of Artists, Ullens Center for Contemporary Art (2009– 10); Media Art China 2009: Timelapse, A Swiss-China Media Art Exhibition, National Art Museum of China, Beijing (2009), and Centre PasquArt, Biel, Switzerland (2010); Fukuoka Triennial, Japan (2009); Venice Biennale (2009); Guangzhou Triennial, China (2008); Poetic Realism: A Reinterpretation of Jiangnan, Centro de arte Tomás y Valiente, Madrid (2008); The Real Thing: Contemporary Art from China, Tate Liverpool (2007); Moscow Biennial: We are your future (2007); Trading Place, Museum of Contemporary Art, Taipei (2005); Yokohama Triennial, Japan (2005); Alors la Chine?, Centre Pompidou, Paris (2003); Transience: Chinese Experimental Art at the End of the Twentieth Century, Smart Museum of Art, University of Chicago (1999); and Inside Out, PS1 Contemporary Art Center, New York (1998).
Courtesy of the artist and Spring, for further information please visit www.springworkshop.org.
Related posts: