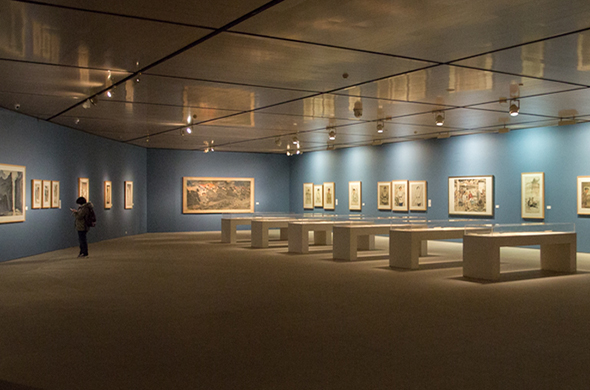 Central Academy of Fine Arts (abbr. CAFA) celebrates its centennial anniversary in 2018, and many academic scholars and their students have participated in the review and research of the previous masters' studies and creation. In order to celebrate the upcoming 100th anniversary of Li Hu's birth in 2019, a large-scale retrospective entitled "Four Stanzas on Aspiration: Traces of Li Hu's Art" has been curated and launched by CAFA, to study the practical experiences and artistic achievements Li attained in the process of innovation of Chinese painting, and propagating his artistic spirit, "cherishing high aspirations and defying difficulties". Hosted by the Central Academy of Fine Arts, organized by CAFA Art Museum, co-organized by Xu Beihong Memorial Museum and Chinese Red Cross Foundation – Liao Jingwen Found, supported by National Museum of China, National Art Museum of China and Beijing Fine Art Academy, it was inaugurated at CAFA Art Museum on December 9, 2018. There are more than 100 works of art and precious literature from different creative periods and Li's artistic features and his life in art are comprehensively presented. It is a project of the "2018 National Art Work Collection and Donation Rewarding Project Organized by the Ministry of Culture and Tourism of the People's Republic of China."
Li Hu was one of the key artists in the transformation and development of Chinese painting in the 20th century. Xu Beihong once commended Li and stated that "Li Hu is a painter that successfully uses Western painting skills to sketch with Chinese ink on rice paper since the Department of Arts at the Central University moved to Sichuan." Honored Chairman of the China Artists Association and the former President of CAFA Jin Shangyi delivered a speech at the opening ceremony and said that, as a student of Mr. Xu Beihong, Li Hu had a solid foundation in sketching, and Li blended skills in Western painting into the creation of Chinese painting, so that traditional Chinese paintings were transformed into modern paintings. Also, Jin said, since the reform and opening up, it has been fiercely debated in Chinese painting circles, and there were two sides with opinions: some people agree with the "integration of Chinese and Western paintings" and some people approve "enlarging the gap between the both". However, it is necessary to take the academic lead in the first place, when we are in the face of a controversy, in order to develop art. It is a question raised by the "Four Stanzas on Aspiration: Traces of Li Hu's Art", and also an enlightenment to assist current artists to develop Chinese painting.
President of CAFA Fan Di'an was not present at the opening ceremony because he was on official business, so Deputy Party Secretary of CAFA Wang Shaojun was commissioned to deliver a speech on behalf of Fan Di'an. Fan stated that it allows people to know Li Hu's practical experiences and artistic achievements in the innovation of Chinese painting, as well as the concept of honoring the teacher and respecting his teaching, and his artistic pursuits, improving personal qualities and personal skills. Li Hu insisted on the integration of Chinese and Western paintings in the context of the convergence of Chinese and Western cultures in the 20th century, using skills in Western painting to sketch with Chinese ink on rice paper, to create a large number of innovative works that present the features of the times. Also, there is an innovation in the creation of thoughts and in the brush-and-ink language of Chinese painting. Fan Di'an also said that Li considered that realism was at the core of his creation, and insisted on the exploration of new ways and new features of Chinese painting throughout his life. Li often chose themes closely associated with the times, and concerned with people's livelihood, directly facing reality; in the innovation of skills, Li promoted the use of drawing to create an image, the use of heavy colors of Western painting blended with the light ink of Chinese painting in the paintings of landscapes and figures, which achieved a unique result. In teaching, Li emphasized the training of solid fundamental skills in shaping, and attached importance to the stimulating of students' innovative consciousness, encouraging students to break old rules, and exploring new ways for traditional brush and ink, in order to seek a new realm.
Deputy Dean of the School of Chinese Painting Liu Qinghe commended Li Hu, whose artistic style and teaching thoughts played an important role in the development of Chinese painting at CAFA, and the unique style of the paintings integrating the skills of Western painting and Chinese painting promoted the development of modern ink painting. Following Xu Beihong and Jiang Zhaohe, Li was one of the artists and educators who has made great contributions to the development of Chinese painting. Xu Qingping, Dean of the Renmin University of China School of Arts and Director of the Xu Beihong Memorial Museum, recalled anecdotes from the art circles and explained Li's achievements. For example, one day, a young artist who adored Li Hu's paintings, took Li's album to ask people who the artist was, because he hoped to study in the school where Li taught. Obviously, Li Hu could be considered a banner for many young artists.
"Four Stanzas on Aspiration: Traces of Li Hu's Art" is on show at Galley 2B at CAFA Art Museum. Li Hu wrote "cherishing high aspirations and defying difficulties" as his motto, which was considered as the main idea of the exhibition and the curator Cao Qinghui chose four thematic stanzas as a retrospective of the traces of Li Hu's life and art and expounded on his aspiration on life and art. The first stanza, the "Earth" showcases Li's early paintings finished in the 1940s. In this part, the tough life of the young man, mountains and water in Sichuan and Xu Beihong's instructions constitute a world in which Li Hu's art grew up. Li Hu, who moved to Beijing from Sichuan and became a painter at CAFA, used "Practice" to activate his artistic creation, using sketches to study and refine the shape, and also he paid attention to observing and performing images. This stanza presents the works during the 1950s and 1970s, including sketches, ink and color paintings, and oil paintings, which reflect Li's self-discipline and practice in striving to be thoroughly tempered and seeking increasing perfection in artistic creation; the third one, "Emotion" focuses on thematic creations and drawings. All works are associated with each other, and presented with a set of sketches and refined images, to reveal Li Hu's surging emotions during the thematic creation. At last, "Aspiration" uses the self-portrait of Li Hu to sum up his life, and Cao Qinghui believes that although Li Hu has passed away, his spirit is still alive, and also, his fellows are still alive too. Hence, apart from four sections mentioned above, there is an additional chapter entitled "Symphony · Infinity" displaying works by Li Hu and his fellows including his students.
"Four Stanzas on Aspiration: Traces of Li Hu's Art" was greatly supported by Li Hu's family members, who have donated 21 representative works by Li Hu to CAFA, including all sketches and manuscripts of the "Guangzhou Uprising", which are important artistic treasures for the teaching of Chinese painting at CAFA, and also it fills a gap in the collection. Deputy Party Secretary of CAFA Wang Shaojun gave donation certificates to the representatives of Li Hu's family. Li Hu's daughter Li Rong sighed with emotion and stated that, since her father Li Hu received the teacher certificate from the National Beiping Art School, issued by Xu Beihong in 1948, and was later officially transferred to CAFA in 1951, and passed away after struggles with illness in 1975, he has never left CAFA, although he taught in different faculties during different periods. To hold this exhibition and donate representative works to CAFA is the best way to commemorate the art ancestor and promote his spirit, on the occasion of the Centennial Celebration of CAFA and the 100th anniversary of Li Hu's birth.
"Four Stanzas on Aspiration: Traces of Li Hu's Art" continues to January 3, 2019.
Text by Zhang Wenzhi, translated by Chen Peihua and edited by Sue/CAFA ART INFO
Photo by Hu Sichen/CAFA ART INFO
Related posts: