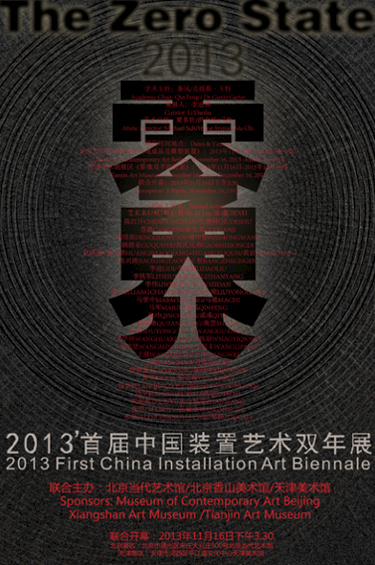 "Zero" implies a limit, in the world of "zero", a variety of latent forces fight with each other, one aspect wanes, the other waxes, however they will not become "zero or game". "The Zero state" means a boundary without limit. The current state of Chinese contemporary art is precisely the state of zero, there are various possibilities.
Since Duchamp's urinal of the early 20th Century, readymade articles have become an avant-garde material to constantly break through the imprisonment and to subvert the traditional, it is increasingly appropriated by artists, becoming common artistic thinking. In fact, installation art dissolves the boundaries of art, offering unlimited possibilities to the artists, heavily promoting the development of the arts and even industrial design, technology, etc., which is the precise reflection of the contemporary practical innovative significance.
The biennale is an initial large-scale exhibition of the achievements of installation art in China, co-organized by Beijing and Tianjin, featuring works by representative artists, which were mostly made of readymade articles from people's daily lives, or from using traditional art forms, however, when these materials were transformed into the new performance forms after the artists' rethinking, the familiar things become unfamiliar ones, and even absurd, perhaps making people think about the old aesthetic topic of "boundary of art" again.
About the exhibition
Co- organizers: Museum of Contemporary Art Beijing, Beijing Xiangshan Art Museum, Tianjin Art Museum
Venues: Museum of Contemporary Art Beijing, Tianjin Art Museum
Curator: Li Daoliu
Academic Directors: Curtis Carter, Qin Feng
Art Directors: Li Duozhuang, Hong Jinqiao, Ma Chi
Opening: November 16, 2013
Closing: March 20, 2014
Duration: (Beijing Exhibition: Readymades and Sculptural Installations): November 16, 2013 – March 16, 2014 (Tianjin Exhibition: Images and Graphic Installations): November 16 – December 16, 2013
Joint Opening: 15:30 pm, November 16, 2013
Press Conference and Discussion: (Museum of Contemporary Art Beijing) 13:30 – 15:30 pm, November 16, 2013
Artists:
Readymades and Sculptural Installations (34 artists): Ai Weiwei/ Chen Xi, Chen Honghan, Qiu Deshu, Cang Xin, Cui Xianjing, Deng Guoyuan, Fu Zhongwang, Gaoshi Brothers, Huang Yan, Jiao Xingtao, Li Tiejun, Li Zhanyang, Li Wei, Luo Zidan, Liang Changsheng, Liu Yonggang, Ma Chi, Ma Jun, Qin Chong, Qi Yu, Shi Hui, Wang Guangyi, Wang Huaxiang, Wang Yiqiong, Wang Mingxian, Wang Lifeng, Xi Hua, Yang Qirui, Zheng Xuewu, Zhao Yi, Zhou Yu-mei, Zhan Wang
Images and Graphic Installations (24 artists): Cai Jin, Gu Qunye, Huang Shaoqiang + Huang Yuqun, Jiang Zhenggen, Li Di, Li Daoliu, Ma Baozhong, Qin Feng, Qu Jianxiong, Shu Yong, Wang Qiang, Wang Wei, Wang Hao, Xiao Lu, Xu Weiqiang, Xie Xiaoze, Yang Jinsong, Yang Songyan, Zhang yu, Zhang Minjie, Zhang Qiang + Lia Wei, Zou Cao
Organizing Committee of the First China Installation Art Biennale
Directors: Zhang Kun, Ma Chi
Media Consultant: Lynn bobo from CCTV
Exhibition Assistants: Zeng Xiaochui, Sun Tiantian
Address of the Museum of Contemporary Art Beijing: No.500, Daxing Zhuang Songzhuang Town, Tongzhou District, Beijing
Address of Tianjin Art Museum: Pingjiang Cultural Center, Hexi District, Tianjin Tel: (010) 89578367
Courtesy of the artists and Museum of Contemporary Art Beijing, translated by Sophia and edited by Sue/CAFA ART INFO, for further information please visit www.bjmoca.com.
Related posts: