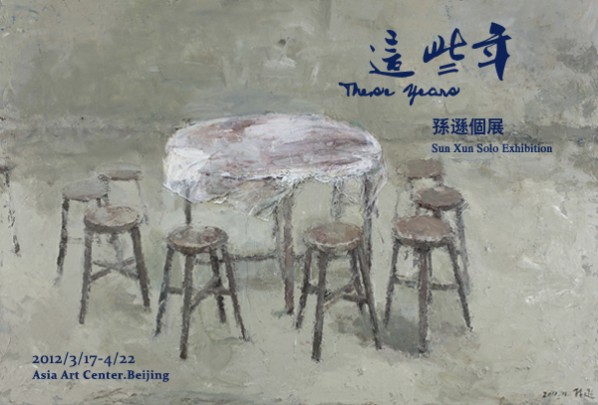 On March 17, 2012, the Asian Arts Center will hold "These Years" – Sun Xun, a Solo Exhibition. As the first exhibition this year, the exhibition will exhibit nearly 20 works created by him from 2000. From his middle school, college, when he was a master then a doctor then a professor, Sun Xun was always in a close relationship with the Central Academy of Fine Arts. It did not matter whether he was a teenager or an adult, he has always being a member in the "academy". For some time, outside his private and teaching life, painting became a habit for Sun Xun. However, in "these years" of which its definite starting date is unknown, painting to him was no longer a habit, but a way of making him fond of being alone and reading and thinking more. Indeed, in "these years", you can feel the "unexpected feelings" Sun Xun wants to deliver to you as an artist – he found the individuals, objects and events intending to break up the "customs" of daily life, and which also enabled us to look back to and think over memories, poetic quality and the sense of touch conveyed by his circumstances of "these years" when witnessing his painting scenes during these years.
Recently, Sun Xun has been exploring his own painting road by "looking around". The style of his earlier works is partial to realistic depiction. In reality, he pays close attention to people and tries to catch their external emotions and internal activities with his painting brush. By recording people's happiness or sadness, the universal social characters can be discovered. Although he has received flowers and applause for his portrait painting, he never feels satisfied. The painting style he desires is one closely linked with real life. In other words, create beyond reality and reflect the aesthetic taste of modern people. Under the positive influence of family education, he persists in exploring the integration of Chinese traditional culture and western painting. The education system received by Chinese people is close to the western system, direct and concrete with instruction in traditional culture which is indirect and subtle and more like a birthmark to us.
The works of Sun Xun swim in time and space, they have a mighty visual impact. In addition, the painter has an unique understanding about the use of multiple materials. Plastic Tablecloth, this painting depicts an ordinary scene: a round wooden stool around the round table, revealing the memories of a big family. In the scene filled with light is a sense of homesickness, a plastic disposable tablecloth is untidily covering the table. The rapid development incurs with the inconsistent coexistence of different factors of people's life, which is the reality of Chinese social style. The round table is easy to arouse your memory and the tablecloth brings you back to reality. The feeling not only exists in the scene but also beyond it, which is similar to visual games. However, we have to admit that this is exactly the exploration of real life and the emotions of Sun Xun. In another flower painting, Sun Xun doesn't draw a withered aloe but a new aloe by using multiple materials. Although it is a new aloe, it looks withered more than a withered one. In addition, Sun Xun also tries to use multiple materials in figure paintings: with deep green background, a father is lying in his bed but the white quilt is prominent in the whole scene. Through the quilt, you can observe the gestures of the father. Suddenly, the space seems to be far away. Then you are surprised with the modeling skill of the painter, which is beyond the form and material. Everything in his painting is appropriate and reveals the simple unfailing charm and heart-reaching happiness and elegance.
At the very beginning of 2012, the Asia Art Center, Beijing will cooperate with Sun Xun to demonstrate his achievements through his life: easel painting using multiple materials and wonderful old works that have never been shown before. Just like what Sun Xun said, "I want to show people some years, and some paintings."
Date: 2012-03-17 ~ 2012-04-22
Opening: 2012-3-17 (Sat) 3:00pm
Venue: Asia Art Center (Beijing)
Courtesy of Sun Xun and Asia Art Center, Beijing, for further information please visit www.asiaartcenter.org.
Related posts: