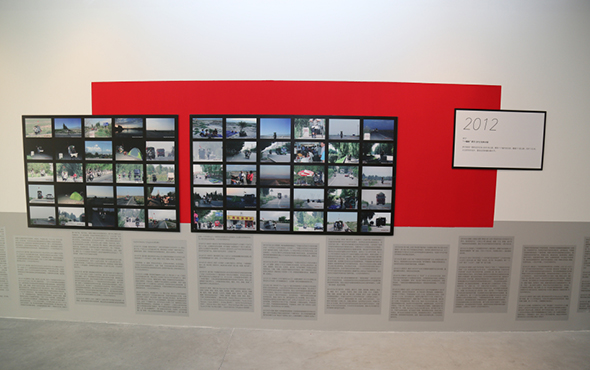 At 4:00 pm on November 3, 2016, the opening ceremony of "Thirty Years of Body Art Performance Project Art Documents in China" was unveiled. The exhibition was jointly hosted by China Minsheng Banking Corp. Ltd., Beijing Minsheng Art Museum, and Center for Visual Studies CVS, Prof. LaoZhu acts as the curator. The exhibition uses documents to offer a systematic academic research of the development of Chinese performance art over the thirty years.
"Thirty Years of Body Art Performance Project Art Documents in China" showcases the related content of the major activities of performance art from 1980 to 2014, including the textual and graphic files of 41 masterpieces, the chronological order of the thirty years of performance art and some of the documents. Director of Beijing Minsheng Art Museum Zhou Xujun addressed the opening ceremony and said that, "Performance art is an important aspect of contemporary Chinese art and pioneering topics, its emergence and development expanded the boundaries of visual arts, reflecting the new state of mind and thinking with an academic research value, and it is also a field of art which we concerned about."
Curator of the exhibition Prof. LaoZhu from Peking University introduced the exhibition, "it is an academic exhibition. It mainly aims at presenting the creativity that is beyond the ordinary imagination. The art museum takes performance art as a cultural phenomenon for the presentation of research and exploration, and the result of the exploration is to transform the performance art into ideas and knowledge, thus our times guarantee creativity."
Director of the Academic Committee of the exhibition Jia Fangzhou introduced the origin of the exhibition – in 2004, the China Art Criticism Foundation was in collaboration with the Chenshia Museum and CMAA, they held the academic seminar of "Thirty Years of Chinese Performance Art" in Shennongjia, and published the anthology of "Performance Art in China". After the meeting, the team members also conducted many workshops and thematic adjustments, and gained the supplements, corrections and revisions from the experts who are engaged in and study the performance art. These works form the basis of this exhibition, and it presents a phased academic achievement. The new developments and new materials that appeared after 2014 are in the process of investigation, and it will continue to add, publish and exhibit them. "Now, all the contents produce a solid basic material, which will offer the most basic academic material to people who will study performance art and contemporary art in the future," as stated by Jia Fangzhou.
The exhibition is on display from November 3, 2016 to February 16, 2017. During the exhibition, it will also hold lectures and discussion activities, so that the public can contact and understand Chinese performance art.
Text edited by Lin Jiabin, translated by Chen Peihua and edited by Sue/CAFA ART INFO
Photo by Beijing Minsheng Art Museum
Related posts: