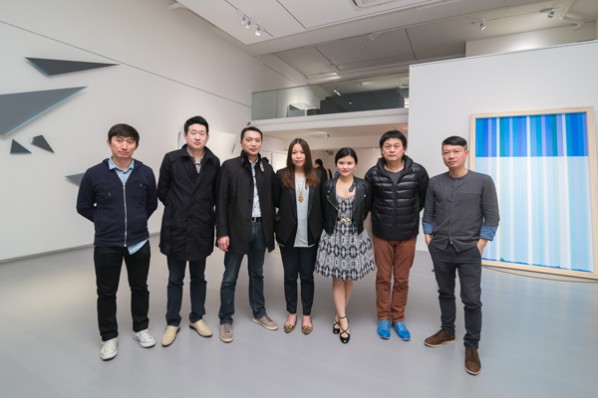 Asia Art Center presents the group exhibition This is Not Painting: Exploring the Boundary of Painting at its Taipei II gallery since January 31st, 2015. Five of the most anticipated and exceptional Chinese contemporary artists–Chen Yufan, Dong Dawei, Li Shurui, Li Yiwen, and Ma Shuqing–explore the possibility of painting in contemporary context. The notion of painting will be further elaborated and re-interpreted; "painting" is no longer simply "painting" itself, but also the "painting" which has leaped beyond its familiar two-dimensional carrier, forever changing the nature of methodology while challenging our way of experiencing art, as well as broadening the horizon of painting.
This is Not Painting might just provide another intriguing question as what "is" painting? For contemporary painting, "is" or "is not" is no longer the question. This exhibition does not intend to offer a point a view, but more likely to show a phenomenon, not a conclusion but open possibilities.
Exhibition Director: Zoe Chang
About the artists
Chen Yufan (b. 1973, Fujian, China) takes his inspiration from Daoism and Zen, meditating through a repetitive alignment of points and lines, placing it against a blank backdrop, fully realizing the ideal of simplifying all things into one unity, of returning to its nature.
Dong Dawei (b. 1981, Dalian, China) comes to Taiwan to create an artwork on-site at the gallery for the first time. A two-meter tall wooden plane is custom-made for the colorful pastels to grace the surface of the board, leaving traces of falling powders. His work emphasizes on the process of the act of painting, reiterating that painting is both instantaneous and temporal.
Li Shurui (b. 1981, Chongqing, China) is expert in evoking minute and delicate sensory experiences. The artwork Sharp presents a diverse set of geometric metal sculpture and Li's continuation of her airbrushing creation on the edges of the sculpture subtly affecting the viewers' perception of the weight, sharpness and momentum of the work.
Li Yiwen (b. 1982, Henan, China) has been studying seal-engraving for years and he refers to the imagery found in reality, memory or fiction, simplifying and extracting its purest structures. Littery Landscape transforms images from a variety of "scenes", and aims to identify the tentative relationship between reality and abstraction.
Ma Shuqing (b. 1956, Tianjing, China) often applies fields of colours to his canvas by alternatively pressing and scraping off layers of oil paints. Colors exist as concrete paints and pigments, while "time" and "space" become something tangible. Colors collide into a rich and fascinating texture on the frame of the canvas.
About the exhibition
Exhibition Director: How Art Museum Zoe Chang
Duration: 2015-01-31 ~ 2015-03-29
Opening: 2015.1.31 (Sat) 3:00pm
Venue: Asia Art Center (Taipei II)
Address: No.93, Lequn 2nd Rd., Taipei 104, Taiwan
Courtesy of the artists and Asia Art Center, for further information please visit www.asiaartcenter.org.
Related posts: